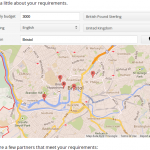 Google Partners are online marketing agencies trusted by Google. When businesses wish to increase the return on their investment in AdWords advertising and need expert help to manage their campaigns, they can identify the right Google Partner based on their goals, industry or location. With over 5,000 Partners worldwide, it can be difficult for brand owners to identify the right Partner for their business. That's where Google Partner Search comes in:
Clients searching for a Google Partner can specify a monthly budget and currency, target language and country and desired location of the agency. The system then pulls up a list of agencies best suited to meet the client's requirements.
So, how exactly does Google rank agencies within the Partner Search system?
Location First
When ranking Partners, the very first factor Google considers is location.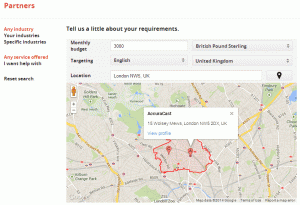 All else being equal, the agency closest to the perceived centre of the city will be ranked first. When searches are national, the other ranking factors take over.
Targets
Language and geographical targets specified in the search form serve as filters more than ranking factors. So long as a partner provides advertising services in the specified language or for the specified location, they should show in the search results. These filters don't seem to always work perfectly, though.
Budget
Google considers the total budget managed by the agency as a ranking factor. This probably isn't great news for newer or smaller agencies, as they will be disadvantaged by larger agencies that have been running for a longer time. There is likely a temporal limit, such as a 90-day spend managed, in the consideration.
Number of Clients On That Budget Level
After the location, this is probably the most important ranking factor. An agency that serves more clients with an average monthly budget in the same range as the budget specified by the searcher will rank higher.
In other words, if Agency A has 10 clients averaging £5,000 per month and agency B has only 2 clients averaging £5,000 per month, then Agency A will outrank Agency B when a client searches with a monthly budget of £5,000.
Agency Best Practice Performance
"Performance & customer care" are highlighted under the "Best Practices" section in the Google Partners agency performance page. The measure of performance isn't very clear. The progress bar compares agency performance to other agencies and a minimum level required by Google to qualify for the Partners programme.

Factors considered when measuring performance include:
Quality Score
Use of targeting – geographic, language, demographic
Use of ad scheduling
Use of negative keywords
Budget usage
Others?- post comments to share any other factors that you know affect performance
Information for this article was collected based on direct feedback from Google Engage for Agencies representatives, research and testing the Partner Search results.