Google Webmaster Tools' newly launched Search Impact reports deliver a lot of very interesting data for webmasters, with a versatile set of filters to segment data. Analysing search presence and the resulting impact for a website has just been taken to a whole new level.
A select few webmasters have just been granted access to the new reports. Here are a few screenshots and an explanation of ways you can use these new reports to maximise your SEO efforts.
Segmenting search data
Search Impact reports can be accessed under the "Search Traffic" menu once logged into the Webmaster Tools interface. As of the writing of this article, the feature has been released to only a limited number of users during the alpha testing phase.

The power of the new reports lies in their segmentation feature. Users can filter the data by date, query, destination page, country, device and search type.

Comparing performance
Multilingual websites can improve international SEO efforts by running comparison reports that show clicks, impressions, click through rate or average position in two different regions side-by-side.

Similarly, organic search presence and user stats can be compared by device. Desktop, tablet or mobile stats for click, impression, CTR or average position can be looked at in pairs.

Data can also be segmented to specifically look at traffic from web search instead of all Google properties.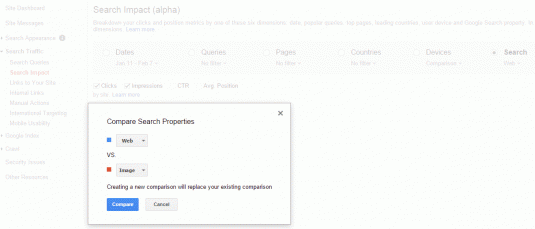 Combining filters
Most importantly, all the filters can be combined to analyse data for specific segments. For example, users can view mobile versus desktop search impact for a specific group of keywords that drive traffic to a particular page on the site from just one country.