NHS
We are working with the NHS to promote Stroke awareness among youngsters, teens and young adults. A social media marketing campaign targeting YouTube and Facebook tells viewers about stroke and encourages interaction. Within just 3 months, the Heroes Act F.A.S.T. videos and ads received over 2 Million impression and the Facebook page had about 3,000 Likes.
Service Provided
Facebook advertising
Enhanced YouTube channel design
Promoted video advertising
Results
A series of funny ads were run on YouTube for searches on a number of popular celebrity names. One of these ads, which was shown whenever a user in the target region searched for 'Justin Bieber', is shown below:

This unique method of reaching the target audience of youth online has been extremely successful. The ads have delivered a million impressions a month with thousands of views of the special channel we setup for the campaign cost just £0.34 per thousand impressions (CPM):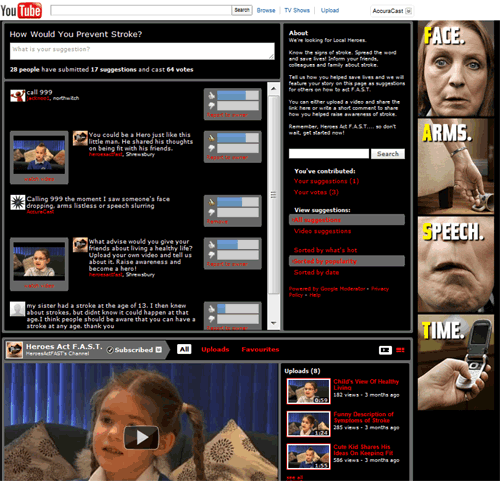 On Facebook too, the highly engaging campaign has resulted in around 3,000 Likes in just 3 months and very high levels of user interaction and sharing.