It's only Tuesday, but Facebook is already grabbing this week's headlines for a number of reasons including developments in their offerings and data on Facebook usage. One of the biggest developments for Facebook has been the addition of a donate button for not for profit organisations. So far a total of 19 organisations have signed up to the initiative and subsequently a "Donate Now" will feature on their posts and Facebook pages. Despite Facebook waving fees for these donations, many are skeptical that personal data will be collected and used to drive other monetising Facebook initiatives.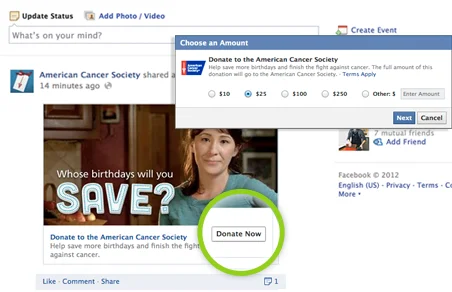 Source: TechCrunch
Another development relating to Facebook's services is the announcement that auto-play video ads will now feature in news feeds. Initially this will only take place for the film Divergent and ad sound will only be activated once a users clicks on this option, however this isn't to say that Facebook will continue to be so considerate in their invasion of our news feeds.
Recent research has revealed that a third of Facebook posts are deleted, in a bid to "self censor" and remove anything that we feel may cause offence when it appears on the news feeds of our friends. Google have also announced that Facebook has topped their list of 2013′s most searched for terms, pipping both Google and YouTube to top spot.
We'd love to hear your opinions on these Facebook developments, so make sure to let us know in the comments below!