A few days ago a hashtag trending on Twitter – #YouTubeIsOverParty – had over 100,000 tweets. Along with this, many of the top YouTube stars were making videos with a similar name.
YouTube personality, Philip DeFranco, for example created a firestorm when he announced that the platform was shutting down his channel due to controversial content. So what the hell was going on?!
The online star, who has more than 4.6 million subscribers on the service, said that he was notified that YouTube was removing ads on some of his videos because it was not "advertiser-friendly," and contained "graphic content or excessive strong language." In total, DeFranco noticed 12 of his videos did not have ads.
We did some research across social media, YouTube and popular blogs: it turns out quite a number of people in the online video community are worrying about the fact that the stricter enforcing of guidelines could hinder creativity and expression.
https://www.youtube.com/watch?v=Gbph5or0NuM
The Policy
There's only one problem – the policy isn't new. In fact, over the last five years, YouTube has regularly disabled advertising on content deemed offensive or derogatory. All they have done now is become more transparent about which videos have this monetisation disabled. They simply made it easier for content creators to see when a video has been flagged and demonetised.
According to YouTube, the company started rolling out improved notifications in Video Manager in an effort to make it fairer and clarify confusion in the creator community around its longstanding advertiser-friendly guidelines. It's part of YouTube's broader effort to improve the platform and help creators build a good business on YouTube.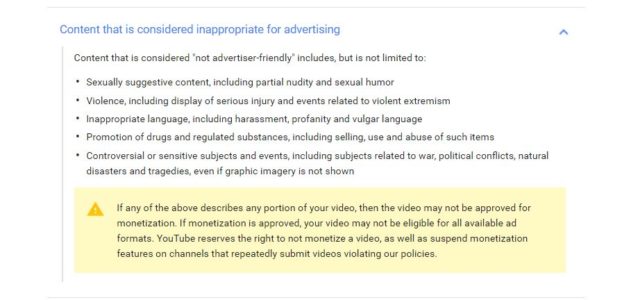 Google said in a blogpost: "While our policy of demonetising videos due to advertiser-friendly concerns hasn't changed, we've recently improved the notification and appeal process to ensure better communication,"
However, only the offending videos are put on a blacklist of videos blocked from ads. Channels can still generate revenues from videos that are not considered unsafe for brands. Also, advertisers do have a say in which channels they associate with. Twitter, Facebook, YouTube and other video content sites are looking to make their platforms safer places for brands, in general, as advertisers are becoming more concerned their messages will appear alongside inappropriate content. This policy guarantees further brand protection from showing ads on offensive or inappropriate content.
The Response
This hasn't stopped animosity against the video platform. Other YouTube artists also complained about their videos being blocked from the service's automated advertising system. Hank Green, who hosts a popular channel with his brother John, said he received what he called "the most hilarious demonetization notice" from YouTube.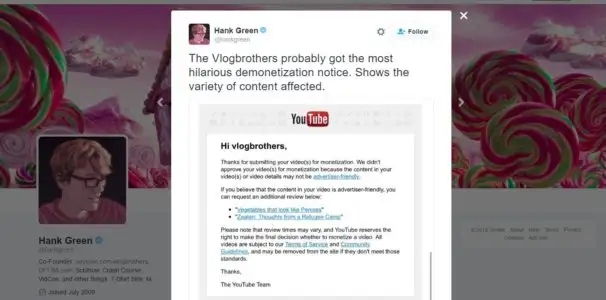 If one of the two videos had a strong headline: Vegetables That Look Like Penises, Green said YouTube also warned the channel about a video in which his brother visited a United Nations refugee camp in Jordan and spoke with some of the residents.
YouTube competitor Vimeo, that provides an exclusively ad-free viewing experience has responded to the controversy with a tribute to "the best advertiser-unfriendly videos" on the site.
The Future
Content policy is going to become even more important as Periscope on Twitter opens up new possibilities for live video screening and real-time advertising. With this platform, brand partners can currently sponsor a series of Periscope live broadcasts and create branded video highlights, which can feature pre-roll ads.
Even though this is a feature that only brands can use, the update is a big step for Twitter to make money off of its live video app and to encourage more creators and advertisers to use it. Brands will no doubt be keen to hear all about their policies for avoiding ads showing on live offensive or inappropriate broadcasts.