When potential customers browse the Web or search on a smartphone, tablet or even a desktop computer, your ad can serve them a phone number, enabling them to call you with one click. It's a qualified sales lead, calling you, so that you can win their business. AccuraCast is a leader and pioneer in pay per call advertising. Our expertise will enable you to serve effective ads and manage your campaign for exceptional results and impressive ROI.
Why we're leaders in pay per call advertising
Innovative – we were one of the first agencies worldwide to recognize the potential of pay per call, and what it could do for our clients.
Experience – although the whole idea of pay per call is still relatively new, we have already developed extensive experience in this important new advertising arena.
Insight – we understand pay per call and we know what works and what doesn't.
Expertise – we can set up your campaigns, create effective ads and manage everything for you.
Reduced cost – we will help you keep costs under tight control.
ROI focused – measurable results that help reduce your cost per acquisition.
Outstanding support – call on our additional support and training services whenever you need them.
Understanding Pay Per Call advertising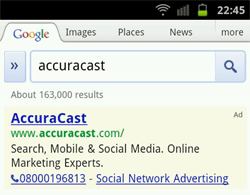 Pay Per Phonecall (PPPc) advertising, currently offered by Google and a few affiliate networks, allows your customers to call you by dialing a special number that is displayed withing your ads.
Smartphone users can click on mobile pay per call ads to dial your number directly.  Pay per call advertising is also now available via a wide network of publishers that we manage via the affiliate networks.
Benefits of Pay Per Call include:
Pay only when a customer calls
No costs associated with fraudulent clicks
Set any daily budget
Cost per lead can be as low as £1
Ideal for service providers, since you only pay when you get a qualified lead on the phone.
A comprehensive service
Our pay per call management service includes account set up, landing page design (where required) and bid & campaign management. These campaigns can run alongside your existing pay per click advertising campaign on AdWords or can be set up as a separate mobile / affiliate pay per call campaign, where visitors can dial the number direct without having to click on the ad.
We eliminate the hassle of managing a number of separate pay per call advertising campaigns from different service providers and recruiting and managing a number of publishers by handling all these campaigns on your behalf. You will have a single point of contact to track your campaign progress, maximise ROI and manage the budget.
Find out how pay per call could bring qualified sales leads to your phone.