Ask.com will soon stop working as a regular search engine as the directors have decided to take the site back to its original Q&A format.
When the site was first launched in 1996, it featured a unique question-and-answer format for providing information, and was called Ask Jeeves. Users could ask questions using natural language queries, and, as the name suggests, the site would provide appropriate answers.
In 2005, the site was re-branded Ask.com. Users could still ask general questions and the site would try to provide satisfactory answers.
Over the years, several changes occurred until it finally became a general search engine. However, the market share they have managed to corner is extremely small and thus they have decided to go back to the original Q&A format.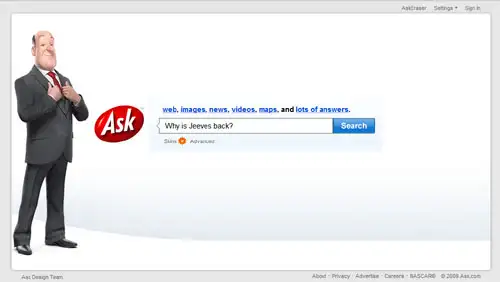 The new Ask Jeeves site

The answers provided to the questions asked will be collected from the Ask.com search engine and also from answered obtained from other Q&A sites, as well as from answers provided by users of Ask.com.
Ask.com's senior Vice President for product management Tony Gentile said that "search didn't work out so well" for the company and given that search isn't what Ask.com is known for, it only makes sense for the company to get back to its roots." Hence they have gone back to the Q&A format.
They have started working on this feature since last year itself and they currently have authoritative answers to 60% of the queries on the site. They also claim to have the largest Q&A data base with over 500 million Q&A's having been indexed.
To answer the remaining 40% of queries, Ask.com has asked users to create their profiles and select subjects on which they are qualified to answer questions. Questions will be forwarded to these users as per their field of expertise. The questions will reach the appropriate user through email and also through prominent messages on Ask.com.
The question will also be put up on the general site for other users to answer. Users will also be able to vote the answers up or down, thus giving the site a social networking tweak.
While the service will definitely face competition from sites like Quora and Aardvark, they may have a head start because of their huge user base of 87 million monthly users.
The service is currently in the beta testing stage, and people can join it by invitation only. Ask.com also plans to make the service available through mobile apps in the future.