Facebook Advertising Agency
Reach millions of consumers and business professionals by advertising your brand, products, services, events or apps on the Facebook network, which includes Facebook, Instagram, Messenger, and WhatsApp.
We're one of the fastest growing Facebook advertising agencies in the UK. Our services empower businesses like yours to target consumers and professionals on the Facebook family of apps.
Facebook Marketing Partners
By working with us, you can access our team of qualified specialists, who can help you with all facets of Facebook marketing and advertising. We're one of the first 10 Official Facebook Marketing Consultants in the world, which means we've been accredited as experts known for our ability to maximise Facebook advertising, including Facebook Pixel, Facebook App Events, Facebook Product Catalogues and beyond.
You can count on us to deliver real sales, and more online revenues. We've run hugely successful campaigns for organisations as diverse as the NHS and Republic of Korea, and from global brands like LG to local businesses such as Salop Leisure.
Why we're first for Facebook marketing
Innovative – we keep ahead of trends and are renowned for coming up with new ideas that help you reach millions of people.
Data-driven – we deliver measurable results and believe in keeping your costs down. Our analytical capabilities are supplemented by cutting edge AI and machine-learning tools.
Expertise – we understand how Facebook and Instagram work, how both networks have changed, and how customer interactions on these sites continues to evolve.
Experience – we've been involved in Facebook and Instagram marketing since the early days of both networks, and know what works and what doesn't.
Outstanding support – call on our additional social media support and training services whenever you need them.
Engaging Content for Facebook Pages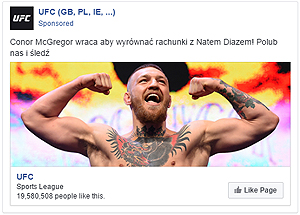 Reach a wider audience through Facebook pages for your business, and grow communities of highly engaged fans. We help brands acquire more followers, and engage more meaningfully with their followers.
Our Facebook marketing expertise has helped brands like UFC acquire fans throughout Europe via intelligent acquisition campaigns, which have driven their follower count to over 25 million Likes.
Facebook & Instagram Advertising
Identify the right strategy to get more leads and sales. Results-driven ad campaigns place your brand in the news feed, on the Messenger app, and even in Instagram Stories. Grow brand awareness and engagement with accurate targeting and outstanding creative.
Our Facebook advertising expertise has helped B2B brands like CCV attract more leads and B2C brands in the sports, travel, finance, and retail sectors grow online sales directly from social.
Call us on 0800 019 6813 or email us
Find out how an industry-leading Facebook marketing agency like AccuraCast can make the difference your brand needs to succeed on the world's biggest social network.
I was very impressed with the consistent hard work and dedication Accuracast put in throughout our campaign, adapting to any situation as it happened and helping to ensure its overall success.
Beth Cockeram - Penguin Random House
Get in touch
Want to find out how we could help you get more from your digital marketing campaigns?
Great! Let's talk. Start by telling us a bit about yourself…
Top Publications and Insights