Facebook is the most popular social network in the world, with more than 1.65 billion monthly active users (as of March 31, 2016) – more than the populations of Europe and North America combined. Advertising a brand, product, service, event or even an application on Facebook can extend its reach to hundreds of thousands of consumers and business professionals. You can target people based on their demographics, their hobbies, their leisure interests or profession, and even their marital status or sexuality, their football team or their favourite band or TV show.
At AccuraCast, we're experienced and accomplished experts at all facets of Facebook marketing and advertising. We've run hugely successful Facebook campaigns for organisations as diverse as the NHS and Republic of Korea, and from global brands like LG to local businesses such as Salop Leisure.
Why we're first for Facebook marketing
Innovative – we keep ahead of the trends and are renowned for coming up with new ideas that help you reach millions of people.
ROI focused – we deliver measurable results and believe in keeping your costs down.
Proven results – we create campaigns that deliver consistent and proven results.
Expertise – we understand how Facebook works, how it changes, and how the way people interact with the site continues to evolve.
Complete service – we can handle every aspect of your Facebook marketing and advertising campaign, providing you with detailed feedback of what has been done and the results achieved.
Experience – we've been involved in Facebook marketing since the early days of Facebook, and know what works and what doesn't.
Outstanding support – call on our additional social media support and training services whenever you need them.
Facebook Business Pages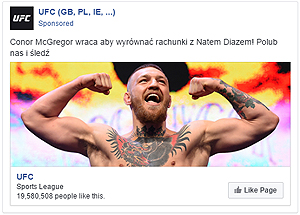 We can help you setup and manage a Facebook page for your business. We can also help you promote the page to reach a wider audience and engage more meaningfully with your followers.
The image here shows an example of a Facebook fan acquisition ad we created to promote the UFC brand page, which has 19 million Likes.
Facebook Advertising
Ads in the news feed, on mobile, and in the right-hand column on Facebook can be highly targeted and effective at building brand awareness and consumer engagement. We create results-driven ad campaigns on the social network and can advise on you on the right approaches as well as potential results.
Find out how our Facebook marketing services can help make your brand a star on the world's biggest social network.
I was very impressed with the consistent hard work and dedication Accuracast put in throughout our campaign, adapting to any situation as it happened and helping to ensure its overall success.
Beth Cockeram - Penguin Random House
Case Studies and Related Articles