2011 may have been a big year in terms of online searches for the deaths of famous people, but Michael Jackson's demise in 2009 is still the 'Death That Most Shocked the Net' reveals a new study.
Searches for news of Jackson's departure were double those of Osama bin Laden who was narrowly ahead of Amy Winehouse (both of whom died last year) in a study of online searches since 2004.
The first global ranking of the world's "Deaths That Shocked the Net" comes from analysing one billion online searches via Google by AccuraCast, a leading U.K. digital search agency.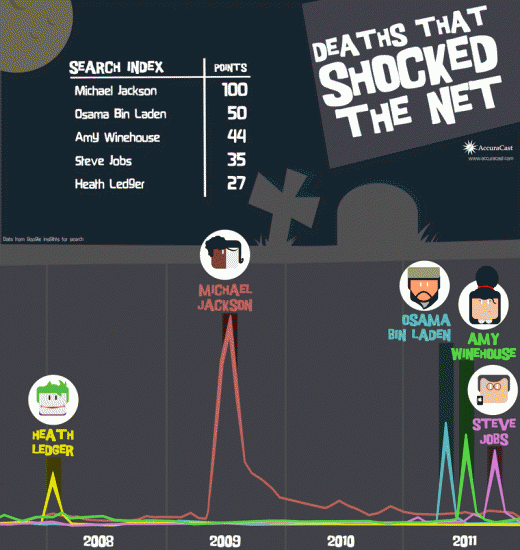 Deaths that Shocked the Internet – infographic
2011 had 5 big deaths in terms of search with Osama bin Laden, Amy Winehouse, Steve Jobs, Elizabeth Taylor and Muammar Gaddafi all featuring in the top ten of most searched for deaths of all time. Only 4 other years made it in the study – 2010 for Alexander McQueen, 2009 with Michael Jackson and Brittany Murphy, 2008 for Heath Ledger and 2006 with Saddam Hussein.
The study shows that the average age of the top ten most searched for deaths is 50 years and 4 months. Amy Winehouse was the youngest on the list at 27 years of age with Elizabeth Taylor the oldest at seventy nine years of age.
The top ten contains 5 entertainers (3 film stars, 2 singers), 2 political leaders, 1 fashion designer, 1 terrorist and 1 technology pioneer – Steve Jobs.
Violent death is the most common cause of death in the top ten search list with 4 in this category – Bin Laden (shot), Saddam Hussein (hanged), Muammar Gaddafi (shot) and Alexander McQueen (suicide).
Homicide was found to have killed Michael Jackson, Steve Jobs died due to illness while drugs and alcohol accounted for Heath Ledger and Amy Winehouse respectively.
Brittany Murphy's death was judged as accidental while Elizabeth Taylor was the one person who died a natural death.
According to Farhad Divecha, AccuraCast Managing Director, "Our study shows that, above all, death is the biggest driver of all Internet search activity especially just after it has occurred. Using figures from Google we have been able to analyse rises and falls in search to produce a unique league table".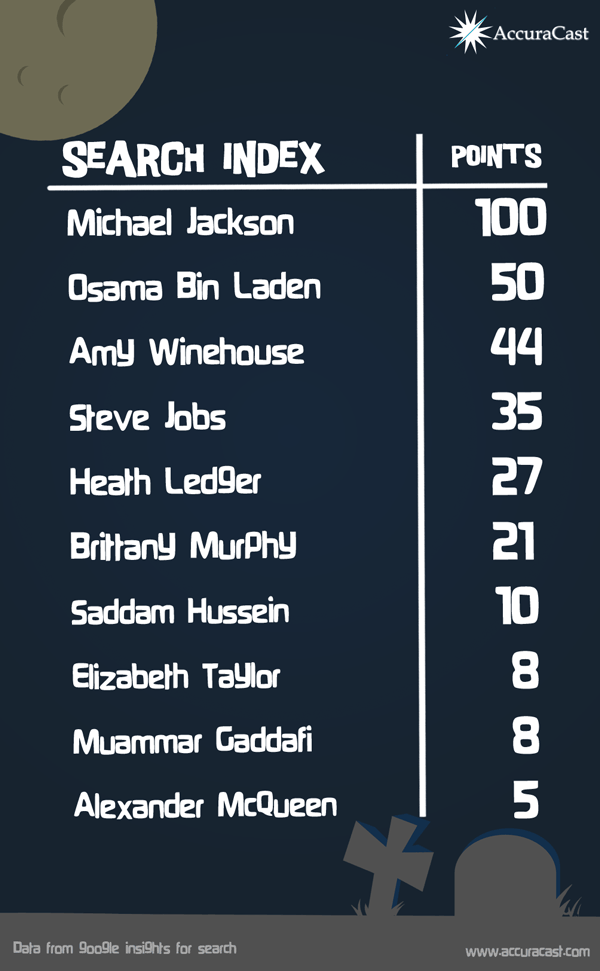 Ranking of the 10 most shocking deaths