Of late marketers and advertisers have all been paying a lot of attention to social media sites in order to reach their target audience. While this is certainly a necessary move, considering the growth that social networking sites are now seeing, it is highly advisable that they do not ignore the tried and tested medium of email.
A recent report from Econsultancy indicates that email still is a powerful medium for targeted advertising.
Stefan Tornquist, Econsultancy's US Research Director says, "Despite the current hype surrounding social media, social network adoption and its influence on e-commerce is far from maturity. More than a third of consumers (37%) do not use a social networking site, while those who have recently become a 'fan' or 'friend' of a company or brand online are still in the minority."
In fact it has been found that communication through email and even snail mail is more effective than the newer marketing efforts via delivery notices, notifications, vouchers and special offers on social networks.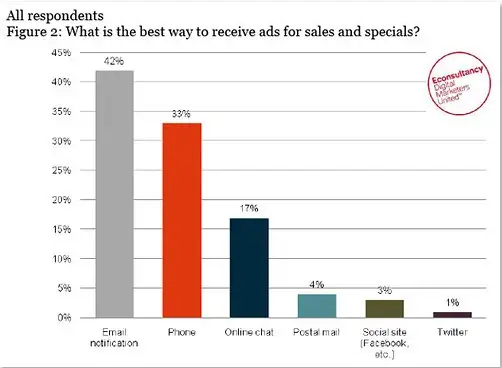 What Is The Best Way To Receive Ads For Sales & Specials?
(Image courtesy of Econsulting)
Econsultancy's report, titled How We Shop In 2010, has separate findings for the U.S. and for the U.K. as there are some differences in the online shopping habits of both places.
In the U.S. the study was conducted across a cross section of 1,400 respondents and about 1,000 in the U.K. Detailed demographics concerning age, sex etc were used to better understand and interpret the results.
The study does confirm that it is essential to target your ads at the appropriate audience as 53% of users felt that irrelevant information devalues the mail and 54% felt that the emails had no special advantage.
In the U.S. 55% of respondents said that high product ratings increased the chances of a purchase and 56% said that consumer generated reviews increased chances of using an online store. Two thirds of those under 24 check emails on mobiles and search is the primary source of information for most purchases. Men are more likely to use search engines and women are more likely to have discussions online or off. Those between 25-38 years of age are most likely to rely on e-commerce.
In the U.K. 57% appreciate ad messages which provide discounts and other special offers, 365 say email helps them make online purchases and 38% do not use social networks. 61% use search engines to study products, while 75% of those between 18-26 years use social networks to research products.