In January last year, Foursquare had introduced Pages, which allowed businesses to reach out to a large audience. So far, the pages were made manually, but now they can be created by business owners through a self-serve option.
In the last year and a half, Foursquare has developed approximately 3,192 Pages (as of today), about 3,000 of which were developed by hand, by the business development team at Foursquare.
With the increasing number of businesses approaching Foursquare to develop a business page, it was becoming difficult for the development team to cope.
Now, with the launch of self serve pages, the procedure has been greatly simplified. Any business that is interested in Foursquare can now create its own business Page and reach out to followers, check in, share tips and interact with their fans.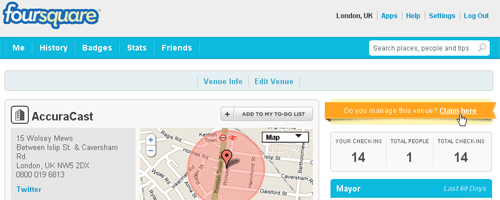 Follow AccuraCast on Foursquare
Platforms like Facebook and Twitter have already been successful in helping marketers reach a large audience, other sites like Foursquare and Gowalla are also following in the same footsteps.
Apart from the fact that this service can now be used by any brand, it will also be possible for multiple people to contribute to the page, thus making it a collaborative process, which is ideal for large corporations.
It will be possible to upload photos on the page directly from the web or from mobile phone. When the page is complete, it can be featured in the Foursquare Page Gallery.
Since its launch, over 120 businesses are making a new page on Foursquare each day!