When Lady Gaga first hit the headlines in 2008 she was a welcome breath of fresh air, describing herself as both a "retrosexual" and "exhibitionist singer-songwriter" in one of her early interviews. Her allure came from her unique style, which included bright make up, daring outfits and crazy accessories and her brand of catchy electro-influenced, synthesised songs.
However it would seem that Lady Gaga's popularity has been falling recently, as her latest album has sold 4 million less copies than her début and internet search trends support this.
The above graph charts search volumes for Lady Gaga from 2004 to the present day and it makes sense for us to start from the beginning.
Between 2004 and 2007 Lady Gaga barely existed online, yet when she released her début singles and album in 2008 this all changed. Traffic began to rise following the release of Just Dance as a single in April 2008 and this continued to increase, until The Fame album hit stores that August. Several other tracks were released as singles and the last of these was Paparazzi, which came out in July 2009.
The release of The Fame Monster EP in November 2009 and the commencement of the Monster Ball tour the following month saw her internet popularity reach new heights. This was also sparked by her appearance on the cover of Flare magazine, an interview in Vogue and her meeting with the Queen and following these events her search volumes reached their peak.
However as the tour went on, traffic began to fall and only picked up briefly as the tour ended in May 2011 and this coincided with the release of the Born This Way album. Yet the difference in the number of searches at this point, compared to the release of the Fame Monster and the start of the tour, is staggering and a fall in popularity is evident. Since May 2011 her popularity has fallen almost continuously each month and shows little sign of recovery.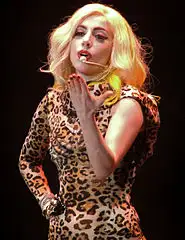 Signs of waning adoration began to appear earlier than this and a great example is when Lady Gaga donned her infamous meat dress at the 2010 VMA's. Although people enjoyed Lady Gaga's outrageous fashion sense during the early stages of her career, it would appear that she began pushing the boundaries too far and this incident failed to greatly improve her internet popularity. This theory is supported by the minimal increase in traffic when she chose to use the meat dress once again, in May 2012.
When we consider how busy Lady Gaga has been over the course of 2012, her fall in online popularity is astonishing and even more so if we consider the influence of the internet in launching her career. In April 2012 she commenced the Born This Way Ball and then in August she launched her own fragrance, appearing in cities across the globe to promote this. She also lost and gained weight controversially, after admitting to suffering from an eating disorder, openly discussed her use of drugs and appeared at London Fashion Week.
The declining number of searches, which is lingering dangerously close to the level it was when she burst onto the scene in 2008, indicates that we are all a little bored with Lady Gaga's antics!