With the general elections in the U.K. to be held shortly, all the major political parties are making all efforts to reach out to online audiences. Some (perhaps all) politicians, though, don't seem to mind playing dirty in an attempt to thwart their opponents' efforts.
Former deputy PM and member of the U.K. Labour Party, John Prescott, has been urging and instigating his followers on Twitter and supporters to click on Google pay per click ads from their opponents.
Prescott isn't actually encouraging users to click on ads posted by the Conservative Party rather than on links to his own party. Instead he wants users to click on these ads in order to cost the Conservative Party money and make them bleed through their search engine marketing budget faster.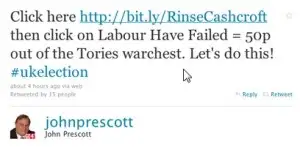 The logic behind this is simply that the Conservative Party pays for every click their ad receives. They could end up wasting their entire daily budget paying for clicks from Labour supporters and their ads would then stop showing.
In other words, John Prescott is encouraging his supporters to commit Click Fraud.
Click fraud was a major cause for concern for PPC advertisers in 2006, when a number of unscrupulous businesses hired rings of click fraudsters to keep clicking on their competitors' ads till the competitors' campaigns ran out of their daily budget, which would then mean that the competitors' ads would stop showing for the given search term.
The Labour MP's advice to his followers, may just boomerang on him, as the ultimate aim of any political party is to pass on their message and ideology to voters, which is precisely what is likely to happen when supporters of any party click on ads of the Conservative party and visit their site.
Moreover, voters would most likely tend not to look favourably upon a politician who encourages them to commit fraud, albeit online.