While security concerns have made the use of CCTV cameras to keep watch over commuters on the London Underground a very common occurrence, individual users have also now started taking photos of other commuters privately to add to a number of websites.
A number of spy cam websites have grown in popularity. These sites encourage users to photograph or video persons they find attractive and share those photos and videos online. Other users of the site can then rate these photos and video based on the appearance of the subject.
More often than not, the person who has been photographed is unaware of it. In fact, sites like TubeCrush specifically reject any "staged" photographs. Photo submission guidelines on the website state, "We won't use any photo that looks like it's a setup, don't cheekily try and get your friends on here boys and girls."
As a result, it may be quite by accident that the subject of such a photograph may come across his own image on the Internet, or worse, may be informed of it by friends or family members who see the photo.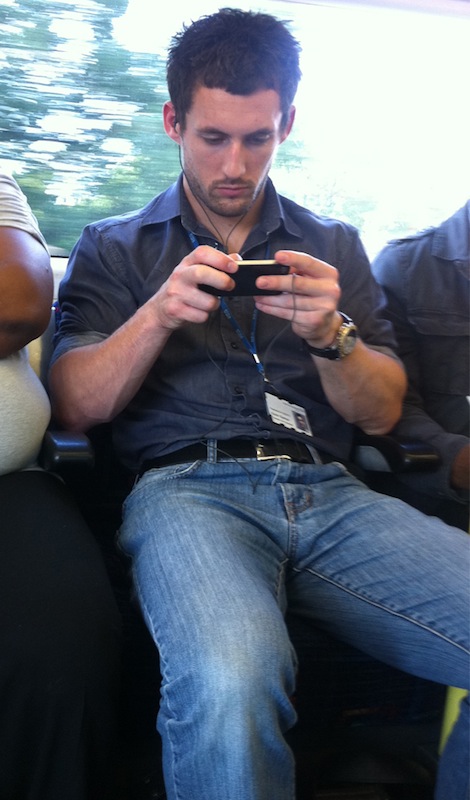 A London commuter recently featured on TubeCrush 
TubeCrush was set up about seven months ago by four youngsters, Steve Motion, Gemma Dean, Andy Kaufman and Michael Sparrow, from South London. The idea emerged while watching a dating quiz show.
So great has been the success of this site that they now have a similar site New York City, called SubwayCrush, and they plan to set up sites in other cities. They have begun to sell branded merchandise online.
Several other social networks are dedicated to helping commuters date other commuters or post messages to find commuters they struck up a conversation with (or even just smiled at). While these sites have been set up without any malicious intent, their ethics are questionable, at best. If a user does not like the idea of his / her photo being circulated and rated on the Web, a removal request option is usually available. However, for users who are unaware that they were even photographed, this isn't much use.
Transport for London says that since the London Underground is a public area, taking photographs of people is legal.