As a Facebook Business Partner, we pay close attention to new technical features and ad creative formats as they become available to marketers. Not only do we take note, but we also like to share the information with our readers!
Here are three new Facebook marketing solutions every marketer will soon be able to implement, to make their ads stand out and to improve marketing performance:
Lead Ads + Canvas
Lead ads are an extremely effective way to generate leads, with an easy-to-submit form. The form opens with the user's contact information automatically pre-populated, reducing the attrition that comes with completing forms.
Whilst lead ads aren't new, Facebook has introduced Lead Ads + Canvas to help improve conversion rates and lead quality. The interactive and informative experience of a Canvas Ad can increase the chance of a user recalling your brand, and now, it also allows advertisers to provide a more comprehensive introduction to their offer, before the user has filled in the form.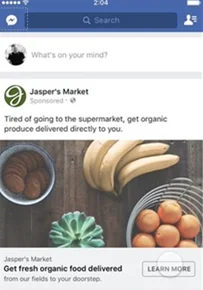 It also works to screen out lower intent or poorer quality leads, as the immersive format​ prepares the user more for what they are signing up for.
Facebook Gifting Bot Ads on Messenger
Messenger Ads on Facebook are a great way for businesses to increase engagement, improve product targeting, and curate memorable personal experiences. The experience interacting with a Messenger bot can be fully automated, with options to activate discount vouchers, facilitate purchases, and display the latest deals on offer, all in the user's chosen language.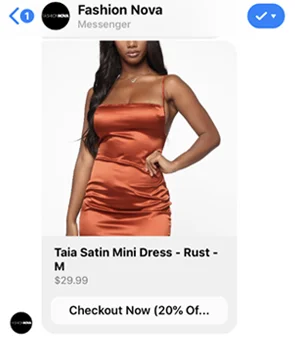 Advertisers will soon be able to setup a "gifting bot" via Messenger Ads, which offers curated answers and recommendations based on user interaction. If the user has an idea of what they want to buy, the bot acts like a personal assistant, guiding the user through their purchasing decision, ending with a carousel of the top product recommendations.
The experience could be product-based, but could also help the user solve a problem or ask specific questions before getting in touch.
It is important for brands to ensure their bot has the right tone of voice. With the help of a designer and developer, marketers can enrich the conversation on Messenger with visual tools and characters that fit in with the brand style and personality.
Take a look at some examples below: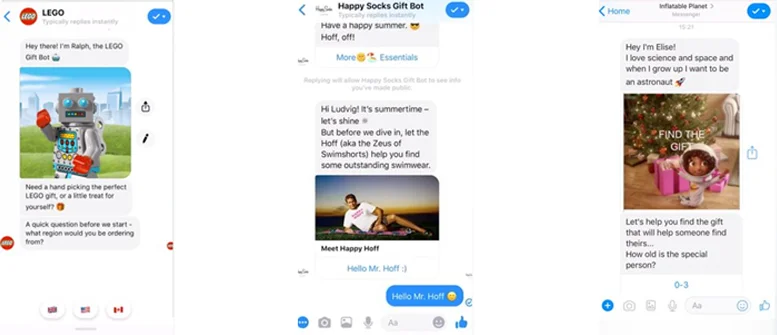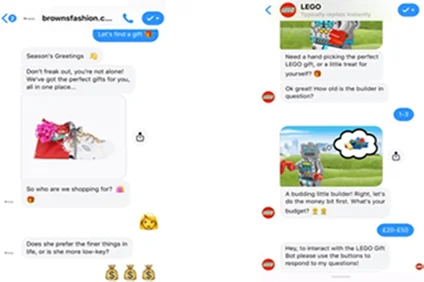 New WhatsApp Ad Features
WhatsApp messaging has made communications easier than ever. And it's the same factors that made keeping in touch with friends and family seamless, that have also helped to bridge the divide between people and businesses. In the current advertising landscape, personal messaging has become a way for customers to cut through the noise and communicate directly with businesses.
Last year, Facebook commissioned a research study to understand the behaviour of messaging app users in multiple key markets. The findings revealed that people use messaging for everything from making general inquiries to getting product or service support. We now see people turning to chat bots and instant messaging at all stages of the journey to purchase.
The WhatsApp Business app presents an opportunity for businesses to interact with their customers, for sales and support. This is achieved by using tools to automate, sort and quickly respond to messages, as well as tools that allow the app to complete financial transactions.
For starters, businesses should create a WhatsApp account in Facebook Business Manager, and a business profile with relevant business information, such as the address and phone number.
Businesses can communicate with customers at scale with the WhatsApp Business API. This API allows brands to provide personal assistance to customers throughout the purchase funnel and beyond – for example, an airline can send push notifications via WhatsApp on the day of the flight, with boarding passes, flight times and delay notices, free of charge.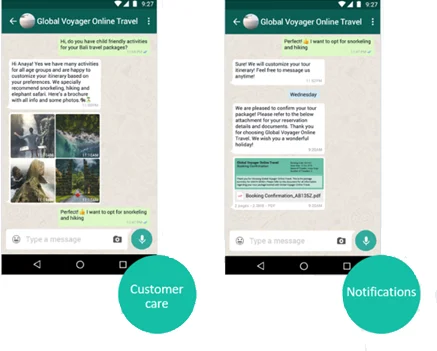 WhatsApp users in India can now converse and ​make transactions with businesses via the app. In three steps a payment can be sent from WhatsApp straight to the intended individuals' account.
It no longer matters if you are a SME or a large enterprise, all these solutions are available for you to take full advantage of. When doing so, brands should ensure their tone of voice and personality remain consistent throughout the customers buying journey.