Pinterest, the hot new social media site on the block, has recently faced problems with regard to copyright infringement. In an attempt to sort out these issues, they have updated some of the terms on their website.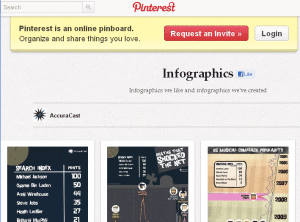 About a month ago, Flickr decided to block users from sharing certain images on Pinterest. They have created a no-pin code for images on their site. Whenever a person tries to pin an image from their site onto Pinterest they get a message saying, "This site doesn't allow pinning to Pinterest. Please contact the owner with any questions. Thanks for visiting!"
A representative of Flickr confirmed that they are using this code for all "non-public/non-safe page as well as when a user has disabled sharing of their Flickr account."
Flickr's strategy is, however, only partly effective as those who wish find a way to get around this restriction can do so quite easily. All they need to do is to download the image and then upload it on Pinterest as their own.
Surrounding the very same issue, Pinterest account owners also became aware that they could be opening themselves up to litigation if they pinned copyrighted images that subsequently started being monetised by Pinterest.
Now, in an attempt to address the issue of copyright infringement and avoid getting into legal tangles, Pinterest has updated some of the terms used on their site.
Earlier, Pinterest's Terms of Service indicated that they had the right to sell any material posted on their site. Now they claim they never really intended to sell any such material and so they have updated their terms and conditions document and deleted this clause from it.
All Pinterest users received an email this week informing them about the updated terms of the service. The website has also updated the Acceptable Use Policy to ensure that any material that encourages self harm or self abuse is not allowed.
It has also become simpler for anyone to report copyright or trademark infringement on the network.
Pinterest has also clarified that they do not automatically own the material that is posted on their site. However, they do have broad rights to use any material posted there.
It is important for users to remember that they should only post material that hey legally own on Pinterest and not just copy something that belongs to another person or company without receiving permission to do so.