Pokemon Go has just been released in the UK, following wild success after its release in the USA on July 6th. Users can play for the first time on their mobile phones and devices, searching the real world using satellite location to find pokémon near them. They use the phones augmented reality to see and capture them.
Pokémon Go has quickly become one of the most viral mobile applications of all time. The game is now the biggest app ever in the US, with 21 million active daily users, edging past Candy Crush Saga's 20 million peak active user count in the US. Moreover, it has now overtaken Twitter for daily users, and it sees people spending more time in its app than in Facebook. Survey Monkey estimates that Pokémon Go is on track to overtake Snapchat active daily users on Android devices within the next couple of days.
The trends
There are even more surprising facts about this 20 year old game. As a digital marketing agency we are obviously fascinated by data and trends on the web. That's why we decided to play with Google Trends and see how popular Pokemon Go is. Well, the answer: Pokemon Go is huge!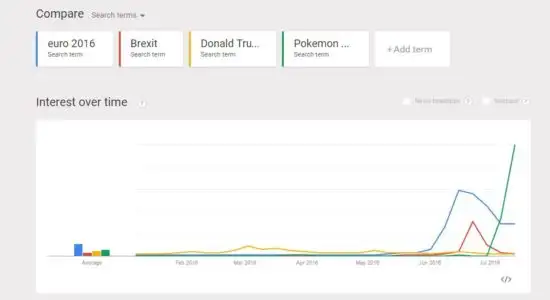 We compared three of the most trending searches on the web this year: Brexit, Euro 2016 and Donald Trump, who always stimulates people's interest. Then we added the search term "Pokemon GO". As you can see in the graph, the number of queries has incredibly increased, reaching a peak which is almost double that of Euro 2016.
We then did a second after a discussion in the office, "Everyone loves pizza all over the world. It's one of the most searched words. Surely there will be more people interested in pizza than in Pikachu. We were wrong! Looking at the past 7 days, Pokemon Go has consistently been 4 times, if not more, larger than Google searches for Pizza. This is incredible, considering that pizza has more searches than Game of Thrones for example!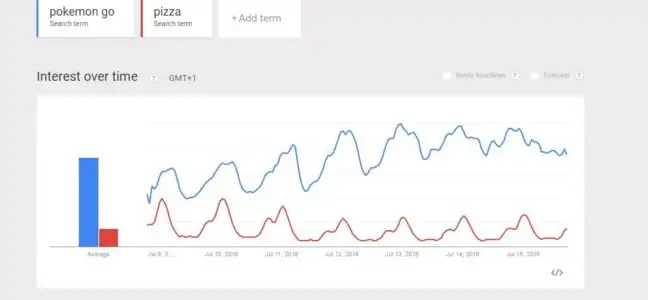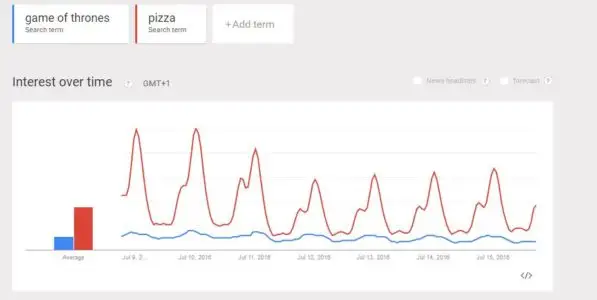 The hit augmented reality game is also making its developers very happy. The share price of Nintendo, which owns a third of the Pokémon Company and an undisclosed stake in the game's developers Niantic, has rocketed by 50%. The release of the game in other countries – including the UK – has been put on hold while the developers and servers struggle to cope with demand. Nintendo has enjoyed its biggest weekly share price gain in more than 30 years following the launch of Pokemon Go. Its stock jumped by 70% too, boosting its market value from £13bn to £19.6bn.
It's a huge trend. How Niantic and its partners handle the future of the game, from server issues to rolling out new content, will likely determine how active and how big the game's user base will remain in the next months and years. Right now it's already changed how we think about mobile and social gaming, and of course, business owners everywhere should be taking advantage of this extraordinary trend.