Mobile retail marketing has been gaining popularity and is set to grow even further. This has just been confirmed by a report from Juniper Research.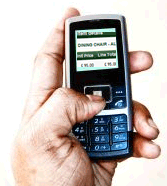 Marketing professionals and retailers are now putting a lot more effort into their mobile marketing campaigns. This is obviously because they have realised that mobile marketing is starting to pay rich dividends.
Analysts at Juniper have found that the latest techniques and tools available for mobile marketing are cost effective and at the same time they influence the shopper very positively. The availability of Near Field Communication technique for marketing and other tools such as mobile coupons have also improved the scope of mobile marketing to a large extent.
Mobile retail marketing comprises largely of mobile coupons, which dominate the market with over 50% share and are likely to grow to 75% of the total market by 2012, mobile smart posters, which currently account for less than 1% of the total market and mobile advertising, which will account for the rest.
Due to these and other developments, the mobile retail sector is set to grow up to $15 billion worldwide by 2012. This is an increase of 50% over and above the figures for 2011. The easy availability of gadgets such as smartphones and tablets will greatly contributed to this growth. An earlier report had predicted that revenue from the mobile NFC market would reach $50 billion by 2014.
Technological developments have proven to be good for both the retailer as well as the shopper. While retailers now have more ways of reaching their target audience, the shopper is also equipped with more access to information about the products available as well as the pricing, allowing them to take the right decision when purchasing a product.
Growth of mobile retail spend is faster in North America and Western Europe than in the Far East and China. The mobile retail opportunity, split among the 8 key regions globally in 2012 is as follows:
| Region | Mobile Retail Revenue |
| --- | --- |
| North America | 18% |
| Latin America | 1% |
| Western Europe | 17% |
| Central & Eastern Europe | 2% |
| Far East & China | 55% |
| Indian Subcontinent | 3% |
| Rest of Asia-Pacific | 2% |
| Africa & Middle East | 2% |