StumbleUpon upgraded their advertising platform, launching two new ad options and renaming the service to StumbleUpon Paid Discovery.
The new platform provides advertisers with three types of advertising campaigns. They are Light, Standard and Premium. The Light option is the standard StumbleUpon ads version that was offered before the upgrade. The new options offer some new facilities to advertisers.
Targeting by device is one such new facility. This means that the sponsored stumble can be targeted specifically at various devices such as desktop browsers, iPad, iPhone and other Android based phones. This allows application developers to advertise their apps to users on specific devices that their apps are designed for.
The platform also provides advanced reporting, with viral sharing and engagement metrics, traffic analysis and a website quality score. The top-level service option also provides accelerated serving priority, which allows the advertiser to move ahead in the line.
StumbleUpon's older ad model concentrated only on targeting new traffic for the advertiser or publisher. However, with this new ad platform, they are hoping to be able to engage visitors more.
Paid Discovery ads will show up on the StumbleUpon screen even without the user having to click on a banner. This is the same concept as the original ad model, where users were just led to new sites
Advertisers will still be able to target audiences based on demographics such as age, gender and location and interests.
While the earlier ad platform charged a flat rate of $0.05 per visitor, the Standard Paid Discovery ads will be charged at $0.10 per visitor and the Premium Paid Discovery platform will charge $0.25 per visitor.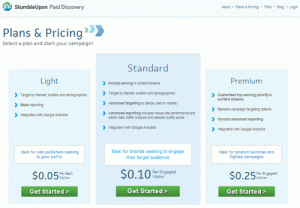 Three ad options offered when setting up a campaign on StumbleUpon Paid Discovery