Twitter have officially begun testing their 'buy now' button this week, which will allow users to buy items directly from a tweet with just the click of a button. The new feature will be tested through an interesting mix of official test partners, ranging from the luxury British fashion brand Burberry, to the world-famous pop star Rihanna.
Twitter have also teamed up with Fancy, Stripe, Gumroad and Music today in order to help drive their sales and give them a helping hand as they take their first major step into the e-commerce world.
So how exactly does it work?
It's simple really. The various partners testing the new feature will now be able to tweet details of the products they are selling directly to their list of followers on the site. If a user then wishes to purchase that particular product they simply select the new 'buy now' option that will be included in the product details, complete their payment information (which Twitter then encrypts for future transactions) and that's it.
But can users trust Twitter to store their private payment details in their records?
Twitter posted on their official blog this week, "We built this test experience with your trust and security at the forefront. Your payment and shipping information is encrypted and safely stored after your first transaction, so you can easily buy on Twitter in the future without having to re-enter all of your information. Of course, you can always remove this information from your account. Your credit card is processed securely and won't be shared with the seller without your permission."
Currently, Burberry and Home Depot are the only two retail partners taking part in the test. However, there will no doubt be a number of other keen retail brands who will be begging to test out the new feature as well. After all, one of the main (and possibly strongest) features that the platform relies on is users' ability to retweet information that has interested them.
Does this mean that Twitter feeds will become overloaded with various businesses, advertisements, and product details that people don't find appealing to them? Potentially. Microblogging sites could turn into more of an advertising platform, and could end up losing their generated content base.
That being said, this idea could prove to be a great success. Twitter will no doubt begin to attract more users by providing something new, exciting and appealing to those who may have avoided using it in the past. This is a huge opportunity for the sale of items that have a high-demand and limited availability.
Musicians will be able to tweet directly to their fans regarding ticket sales, providing beloved fans and followers with the chance to snap up concert tickets before others can get their hands on them. Disintermediation will indeed be widely appreciated in this particular sense.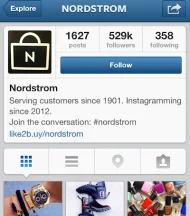 Similar to Twitter, both Facebook and Instagram have recently introduced on-site buying options. Nordstorm, an online and in-store retail company have collaborated with Instagram to allow users to make purchases directly through the social media site/application. Bryan Galipeau, social media director at Nordstorm explained, "It's been a customer pain point. When we would post these images, pretty much every time we'd get questions like: 'Is this still available? What size? What does it cost?'"
Whether the 'buy now' button will work for Twitter or not, it's still too early to say. It's difficult to see whether items such as a £400 Burberry handbag will sell using the button, as this new feature will strongly rely on impulse purchases, and this particular item would certainly not fall into that category (well for most people anyway).
It does, however, have great potential in terms of attracting new users to the site, as well as decreasing the long step-by-step process of purchasing items online. Internet shopping could soon become a whole lot easier.