After a recent review of online advertising practices, the U.S. Federal Trade Commission recommended that Internet users should have a Do-Not-Track option available to let them opt out of online ad tracking.
A do-not-track option, if implemented will allow users to decide whether they want advertisers to track their online activities for the purpose of future behaviour-targeted advertising or not.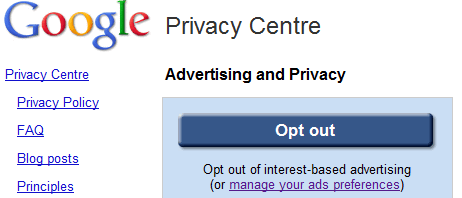 Google Privacy Centre already offers an opt-out option, but it's not directly accessible from the ad pages. Instead, users must proactively search for it.
The FTC has been asking advertisers to implement such a scheme on a voluntary basis since 2008. While there have been some discussions on the issue, nothing concrete has been done so far. The Federal Trade Commission therefore feels that it is time to take the matter into their own hands, and implement a law that would require advertisers provide such an option in the interest of safe-guarding user privacy.
According to the FTC proposal, the do-not-track mechanism would have to be in the form of a permanent setting that shows on the browser, informing users that the ad they are watching is being tracked. Users could then choose to opt-out of being tracked, if they so desire.
Jon Leibowitz, Chairman of the FTC believes that there will be a substantial rise in the number of privacy related lawsuits if such a system is not put in place soon. The U.S. government report states that "To be effective, there must be an enforceable requirement that sites honor those choices." It goes on to state that "industry efforts to address privacy through self regulation have been too slow, and up to now have failed to provide adequate and meaningful protection."
In short, the report lays stress on the fact that users should have the choice to decide who can collect their data, what data can be collected and where it can be used.
However, several sources have expressed reservations about the implementation of a do-not-track option, as it could affect the functioning of the Internet. It should be remembered that a 'free' Internet is largely dependent on the financial support provided by advertising. If advertisers are unable to reach their target audience, and hence unable to make some money, the economy of the Internet could be badly affected.
While most people agree that users should have a choice, and their privacy should be respected, it is strongly felt by some that the system should not be made compulsory. Advertisers should be allowed to use self-regulatory measures to go about this issue.
Would you opt out?
If you had the option, would you opt out of having your online activity tracked? Let us know by voting on our Facebook poll at:
http://apps.facebook.com/opinionpolls/index.php?pid=1292242071