A lot of press coverage and online buzz is continuously generated surrounding the growth of sites like Facebook, Twitter and Google. In the resulting melee, Yahoo! seems to have been forgotten.
The fact is that Yahoo! is not only big, but several of its properties are number one in their respective fields, while many others are at the number two position. Alex Linde, Yahoo! Director of Mobile Advertising, said during the OMMA Tablet Revolution Showcase at Internet Week New York 2011that "Yahoo! is the premier digital media company".
Linde explained that Yahoo! reaches about 680 million users every month, which is about 50% of the online global population. They also reach about 187 million users in the U.S., which is almost 90% of PC users in the U.S.A.
Similarly, Yahoo! has a large clientele on sites like Yahoo! Sports, Yahoo! News, Yahoo! Finance and several other sites such as Flickr. Linde says, "We are the most trusted brand on the Web."
According to the April 2011 comScore Media Metrix report, Yahoo! is the number one overall Web property and twelve of their properties are number one in their respective vertical sectors.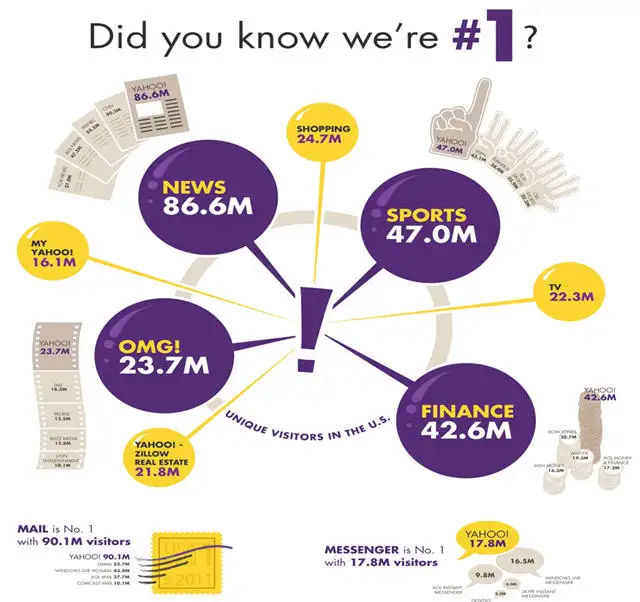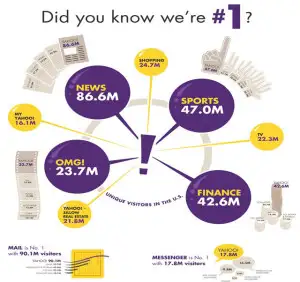 Yahoo! News Network, with 88 million users is far ahead of popular sites like CNN and MSNBC. Similarly, Yahoo! Finance is far ahead of Dow Jones, Wall Street Journal, Bloomberg and others. Yahoo! Sports is also far ahead of ESPN. Moreover, these Yahoo! properties have retained the number one position for the last several months.
In spite of this, Yahoo! seems to have lost the favoured position which it held, in the 1990's.
Yahoo!'s Executive Vice President of the America's region, Ross Levinsohn claims that this is just an evolution phase that the company is passing through. He describes it as "a generational thing. Not a Yahoo! thing."
However, the company's historical mis-steps have cost it in the long run, and even though it might continue to get visitors, it is unlikely to return to glory unless the management team at Yahoo! take some serious steps to bring the brand back into the limelight.