A recent study has revealed that social networks fail to enrich our lives, with the majority of posts being general updates on daily life and used in the promotion of products and services.
Social media usage has grown rapidly in recent years and now accounts for 18% of the time that we spend online. On average we use social networks for 6.9 hours each month and this is more than we have ever done in the past, so this begs the question of how much do social networks actually enrich our lives?
One of the greatest things about the Internet is also one of its biggest problems, as there is no filter or quality control and this also applies to social networks. People can post whatever they like and often chose to, which means valuable, life improving updates are hard to come across.
Considering this I decided to undertake a little research into the content posted by the most followed profiles on Twitter, Facebook and Google+ and analyse how much useful content is posted through them. This idea stems from a recent incident where Philosopher Alain de Botton slated One Direction's Harry Styles and stated that he should be using his influence to educate our youth. The result, Styles began tweeting about Socrates and Greek philosophy.
Have other social influencers taken similar responsibility?
Let's take a look.
For each social network I have placed updates into 3 categories: Generic updates, such as photos or general news, Promotion of their own material and worthwhile content, which includes charity work and messages of thanks to fans. I have analysed the latest 20 updates from each profile, providing a total of 200 posts for each network.
Twitter:
| | | | | |
| --- | --- | --- | --- | --- |
|   | Generic Updates | Promotion | Worthwhile Content | Total Posts |
| Number of Tweets | 71 | 102 | 27 | 200 |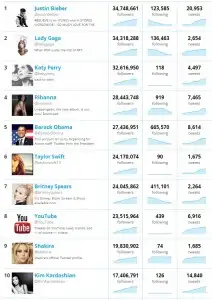 (Image:Twitter Counter)
It surprised me find that worthwhile content was most commonly shared on Twitter by the top 10 most followed users. Considering that these messages must be condensed to just 140 characters, unlike the other networks studied.
Although some of these were simply thank you messages to fans, there were motivational tweets, educational facts and charity work within the 200 tweets analysed. Shakira tweeted 7 valuable messages, with 3 of these discussing Barack Obama's policies and 4 promoting charities working against poverty and aids.
Justin Bieber spends most of his time promoting his music on his Twitter profile but he did take the time to post the above message to his followers. Although the incorrect spelling does make the argument that it is worthwhile content slightly redundant.
Google+:
| | | | | |
| --- | --- | --- | --- | --- |
|   | Generic Updates | Promotion | Worthwhile Content | Total Posts |
| Number of Posts | 64 | 129 | 7 | 200 |
I was also surprised by the nature of posts on Google+, especially considering that the top 10 includes the likes of Myspace founder Tom Anderson and Larry Page, co-founder of Google. This would lead you to believe that more worthwhile content would be shared here, but alas this is not the case.
Facebook and Twitter are arguably far more interactive then Google's social network, so it is hard to believe that it is the most commonly used for promotion and the least used for pushing worthwhile content.
Astonishingly 19 of David Beckham's last 20 posts have been used to promote his recent venture with H&M and transfer to PSG. This is even more surprising considering the work that he does with charity, although the remaining 1 post was a link to a UNICEF initiative.
Facebook:
| | | | | |
| --- | --- | --- | --- | --- |
|   | Generic Updates | Promotion | Worthwhile Content | Total Posts |
| Number of Posts | 123 | 64 | 13 | 200 |

A list of the top 15 most followed Facebook profiles can be found here, although only the top 10 have been taken into account. It is surprising that US actor/comedian Dane Cook has the most followed profile on the social networking site and there are other surprising inclusions in top 10.
The results for Facebook did not surprise me and it would appear that the most followed celebrities on this network use it in a similar way to the average user, sharing photos, links and articles of interest to their friends or followers.
Although there were 64 posts promoting products and other ventures, it is worth noting that 31 of these came from Mike Tyson and Chelsea Handler, desperately plugging their tour and TV show respectively.
Conclusion
Unfortunately the top influencers on each social network are more concerned with uploading pictures of themselves and promoting their latest venture than posting life-enriching content. Although many will argue that the purpose of such profiles is to connect with their fans, Alain de Botton makes a valid argument that their huge influence should be used for more educational purposes. Maybe they could all start with one post per day, it wouldn't be so difficult would it? What are your views?