Google recently launched new tablet-specific ad formats with a view to satisfy the expectations of this emerging group of users and to help marketers reach out to this rapidly-growing audience effectively.
Over the last year or so tablet devices have been growing in popularity. A study conducted by Google found that 65% of users that have tablet devices use them for at least one hour a day. It was also found that these devices are used mostly for personal and fun purposes such as checking email, shopping, gaming and other such leisure activities.
91% of the time spent on tablet devices is for personal activities as opposed to desktops, which are used for work related activities and mobiles, which are carried everywhere and used mainly for local search and other related activities. As a result of this, the tablet devices are used mostly in the evening or night and are not usually carried everywhere.
In order to make the most of this growing popularity of tablet devices, Google also studied how users interact with ads on the tablets. The study showed that users expect the advertisements on tablets to be more interactive and interesting than ads shown on desktops and mobile phones.
Naturally, this is an opportunity Google won't miss, as they are continuously trying to find new ways to woo big brands and win over more advertising money from traditional media via formats such as online video. The new ad formats introduce by Google are for search and display advertising on tablet devices and have a heavy emphasis on video and rich media.
Rich Media Designs for Mobile are basically rich media ad templates with in-built interactivity. This will make it easy for advertisers to create rich media ads for tablets by porting creative used on other display ad campaigns.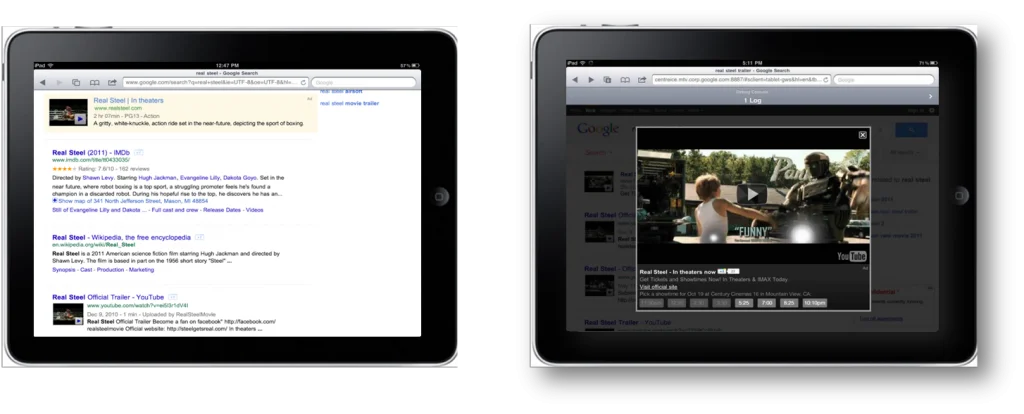 Google Media Ads for tablet search. Image courtesy of Google
On the search side, Google will take advantage of the interactive touch-screen of tablets test video ad placement directly onto the search results page. Google had tried similar video advertising on desktop search results pages in the past, but that experiment never took off from beta.
Media Ads, which will show on Google search pages on tablet devices, though, are more likely to succeed as tablet users are much more open to interactivity and the entertainment aspect of such a device and on the format will help advertisers to engage users in new ways as tablet devices continue to gain n popularity in the days to come.