Earlier this year, news of a Google e-book store became public knowledge.  The store was first expected to launch in early 2010, but was put off to June/July. Google has now confirmed through a report in the Wall Street Journal that they will launch the online book store, called Google Editions, before the end of the year in the U.S. and in early 2011 worldwide.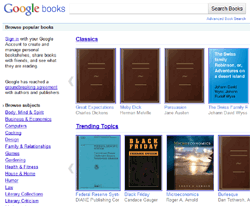 Speaking to the Journal, Google's product management director Scott Douglas said, "Because of the complexity of this project, we didn't want to come out with something that wasn't thorough."
Online book stores such as the Kindle Store from Amazon and Apple's iBookStore are already widely used. Google intends to use a very different sales model.
Users will be able to buy the books directly from Google or through other independent book stores, which will be tied to a Google account. This way, users will be able to read the books on the device of their choice such as a PC, mobile phone or netbook.
Partners who tie-up with Google for this purpose will be entitled to a revenue share, but details regarding this are not yet available.
Google has long hoped to be able to scan all the world's books into digital formats. But they aren't the first with such lofty ambitions. Michael Hart launched Project Gutenberg in 1971 to create the first digital copies of cultural works. In 1993, Digital Book Inc. made the first floppy disc with 50 ebooks. and in 1995, Amazon started printing books for sale online.