User privacy advocates will have a bonfire to roast Google on when this piece of news becomes generally known…
Google has admitted to German and Irish authorities that they have been "mistakenly" collecting information transmitted over unencrypted wi-fi networks over the last three years.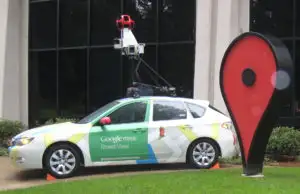 The error was discovered when the concerned authorities in Germany asked for details of data collected by Google's Street View cars, for Google Maps.
Google has admitted that they were "mistakenly collecting samples of payload data from open networks". The data thus collected could include emails, photos, websites visited by individuals and businesses surfing on unencrypted Wi-Fi networks when the Street View cars passed by them.
A number of individuals, communities and even entire townships already oppose the Street View service, as they believe that photographs taken by the Street View cars are an invasion of privacy and could be easily misused.
The fact that Google has now been caught snooping private wireless networks will give privacy watchdogs more ammunition to fight their case.
In 2006-2007 a Google engineer wrote a piece of code on an experimental Wi-Fi project, which sampled publicly broadcast data of all categories. The data collected was supposed to be limited to SSID and MAC addresses broadcasted over non-password-protected networks.
It may be little consolation to know that most of the data collected is probably quite unintelligible.
Google suspended the use of Street View cars after the issue was brought to their notice. The company has also asked for a third party to study the case and find out exactly what caused the error and what kind of data was collected.
In what may be considered to be an apology, Google's senior Vice President of Engineering and Research, Alan Eustace said, "Maintaining people's trust is crucial to everything we do, and in this case we fell short."
Google's problems, though, are definitely not over. Soon after the German government disclosed the issue, the Irish Data Protection Authority ordered Google to delete all payload data collected in Ireland, and they won't be the last. In fact, Google is sure to have a lot of explaining to do and may even have to face legal action.