Since Apple launched the iPad last week, their newly-turned rival, Google, certainly cannot afford to be far behind. There has been a lot of speculation lately about what the tablet version of Google's Chrome OS will eventually look like when it is released. Google has now offered a first-hand look at it.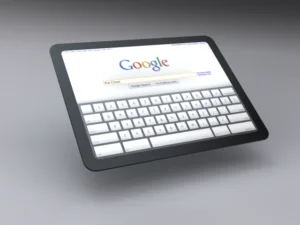 Photographs, illustrations and Flash videos have been uploaded onto Chromium, which is the open source project behind Chrome and Chrome OS.
While Google hasn't specifically stated so, it is assumed that the photographs indicate what the tablet version of Google Chrome will look like. Certain bloggers are quite convinced on this point, simply because the illustrations were uploaded by Glen Murphy, who is the designer for Google Chrome.
It is widely expected that there will be several versions of the Chromium user interface for tablets, since Chrome OS has to be compatible with several different types of devices. These devices will have to meet with certain minimum specifications laid down by Google, in order to ensure the OS performs optimally.
One particular type of tablet could potentially become Google's flagship tablet computer, just as the Nexus One has become The Google Phone.
It is likely that the first Chrome OS based notebooks will be launched by the end of the year. They will be manufactured by third party hardware manufacturers.