Google and Verizon Wireless have revealed that they have joined forces to design a tablet computer that will rival the iPad. This new tablet will run on the Android operating system.
Verizon's Chief Executive, Lowell McAdam, said in an interview with the Wall Street Journal. "We're working on tablets together, for example. We're looking at all the things Google has in its archives that we could put on a tablet to make it a great experience."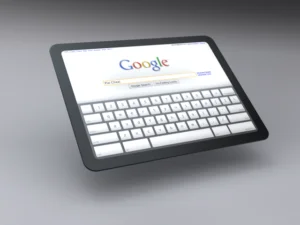 He has not yet set a date by which this tablet could be launched nor has he mentioned which company would manufacture it.
Andy Rubin of Google feels that in the future software developers could write programmes that would run on both Android mobile phones as well as on the tablet, in the same manner as apps are being used on the iPhone as well as on the iPad.
The iPad, created by Apple and supported by AT&T, has become so popular that rivals of both these companies are trying hard to regain market share lost due to the launch of these devices.
As consumers use their mobile phones for a wider variety of purposes, from downloading content to browsing the Internet, it is but natural that the demand for light-weight portable computers is on the rise worldwide. The demand for netbooks, tablets and e-readers is growing. This is confirmed by the fact that Apple sold 1 million iPads in just 1 month after its launch.
Google had offered a first glimpse of the Chrome OS for Tablets back in February, just after the launch of the iPad, which led many to believe that Google was planning to release its own Apple iPad or Amazon Kindle rival. The latest announcement is a small surprise, only because they've decided to use Android OS, which is more mobile-oriented rather than the Chrome OS, which is more desktop-oriented.
Verizon-Google's new device will offer many interesting services and high transfer speeds. McAdam believes that the system of one-price plan per device is likely to change in the near future and users will have to pay more for the facilities they will be provided with.
Apple and Google aren't the only ones gunning for market share. Dell and Toshiba have also announced that they are working on a tablet, and Hewlett-Packard has said that they plan to buy over Palm to start their own line of tablet PCs.