Online shopping has meant that defecting from one brand to one of their competitors has never been easier, as finding another retailer can occur in a matter of seconds and in just a few simple clicks. Therefore the reputation and perception of your brand has never been more important and this is where customer reviews become key.
Collecting the opinions of others has always been an integral part of the decision making process for purchasing a product or service and this has transcended to the online environment, where users seek the reviews of fellow online shoppers and use this to influence their decision. Therefore if you have poor customer reviews for your products and services on your site or the sites of retailers, then the likelihood of a user defecting to a rival is greatly enhanced.
With the holiday season approaching, product reviews will become more important and this is because, when purchasing a product as a present for someone else, you are likely to spend a great deal of time determining whether or not it is the ideal gift.
This involves a large amount of research and it is likely that one of the first places that a user will turn is to the product reviews. Don't believe me? Well, Google recently stated that 67% of online consumers read reviews before committing to a purchase and this could be the motivation behind the latest improvements to Google Shopping. In a recent post on the Google Commerce blog, the company announced that they have implemented a new customer review system to their shopping feature and this should improve the customer experience.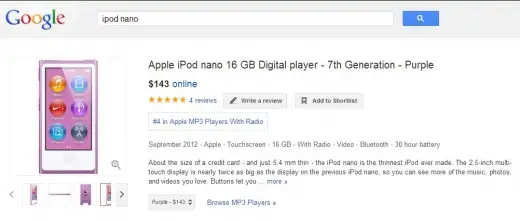 Google is now tapping into Google+ in order to give you the best possible experience and this means that, when searching for a product, you will be shown reviews from your friends on the social network, where possible. The reviews from your Google+ acquaintances will appear above all other reviews and it is likely that this step will see the influence of reviews rise much higher than 67% mentioned above.
Similarly you can now also submit reviews on Google shopping, when signed into your Google+ account and this will also provide you with the opportunity to offer advice to others. However, it is important to remember that negative reviews can be greatly exaggerated and you should take everything with a pinch of salt.