Twitter has finally announced that the launch of their long-awaited geolocation service, in the form of a new feature known as Twitter Places.
The new feature allows users to see exactly where in the world a particular tweet has originated from. It also shows nearby locations such as restaurants, shops and theatres.
Twitter Places is available on both twitter.com and mobile.twitter.com. The service was launched to coincide with the ongoing World Cup, allowing users to tag their tweets with the location from where they are sending the tweet, which is especially cool for those sitting inside the stadium and watching the FIFA World Cup live!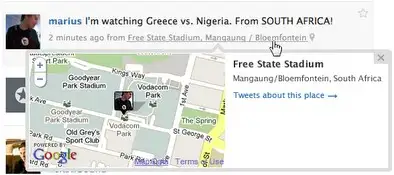 Tweets with embedded location information
The current football World Cup is just one example of how Twitter Places could be helpful. People receiving tweets regarding breaking news stories are more likely to be interested in tweets originating from the place where the event is actually happening.
Users who wish to see other tweets originating from a particular location can click a Twitter Place within a tweet to see all recent tweets from that location.
Foursquare and Gowalla will be integrated into Twitter Places, as many users on these sites already automatically tweet check-ins. Twitter will also release an API to allow developers to integrate their applications with Twitter Places.
Twitter Places will be made available to users across 65 countries in the course of about one week. Mobile applications such as Twitter for iPhone, Android and Blackberry will also soon have access to Twitter Places.