Google has just launched a 'Cycle Maps' service for U.K.
A similar service was launched in the U.S. in 2010, and now the Bicycle Route Maps functionality has been launched in beta for U.K. users. This is an addition to the public transport, walking and driving maps that are already available.
A lot of the cycling routes that have been given seem to follow the same paths that cyclists normally prefer to use, such as quiet and pleasant roads that avoid major crowded motorways. Surprisingly, however, the cycle path recommended by Google between Barnet and Hertford follows major arterial roads instead of the more scenic National Cycle Route 12.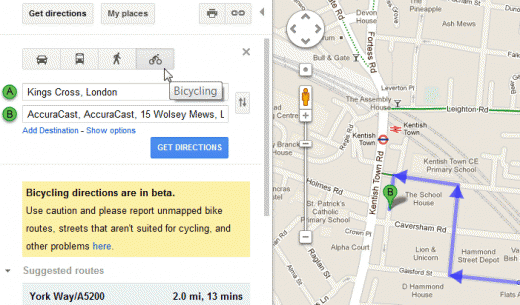 Google Maps bicycle route to AccuraCast's offices
Other cycle route planners such as CycleStreets have been available in the U.K. for some time, but the most popular one, CycleStreets for Android, tends to drain out the mobile battery very soon. Google's own app should be much more mobile friendly.
The cycle maps feature is currently accessible on iPhones but will be discontinued once Apple starts its own mapping service.