With the development of smartwatches over the past few years from major brands, and the recent launch of the much anticipated Apple Watch, advertisers have already begun exploring new ways of digitally advertising their brands and reaching their target audience through wearable devices.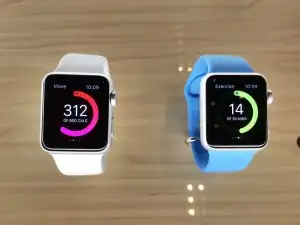 As more consumer are purchasing smartwatches, the likelihood of being able to deliver advertising messages on these devices is rising rapidly. This creates a promising opportunity for digital marketers, as smartwatches are considered a more accessible device in comparison to smartphones, due to the fact that they are on people's wrists rather than in their pocket or bag.
Additionally, smartwatch advertising is considered to be a more personal way to reach users. For more information on what exactly a smartwatch is, the different categories and functionalities check out our previous article.
According to Juniper Research, wearable advertising spend is estimated to reach $1.5 million in 2015, and it is forecasted to hit an impressive $68.7 million in 2019. This is a compound annual growth of 160%.
The following figure illustrates the regional advertising spend on smartwatches in 2019, as forecasted by Juniper.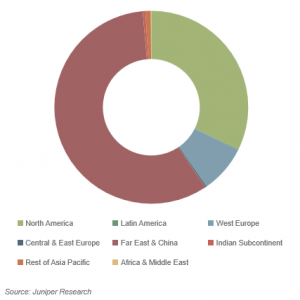 Apple Watch Expands Market
The entrance of Apple Watch into the market is expected to expand the growth of wearable advertising spend, dependent on customer sympathy and acceptance of wearable technology. Apple's new gadget has already sold 1 million devices in the first days of its launch and is predicted to reach 30-60 million by the end of 2015, according to Morgan Stanley.
However, despite the promising opportunity of reaching consumers through smartwatches, brands will need to invent and implement new advertising formats in order to provide for the limited real estate on a smartwatch screen.
Furthermore, an additional challenge is expected to occur due to the behavioural differences between smartwatch and smartphone usage. For instance, smartwatch owners will devote less time viewing the screen of their device – probably a few seconds – and thus, advertisers will have limited time to engage their audience.
Wearables Here To Stay
Sales figures show the wearable market is here to stay, and advertisers should not omit promoting their brands in this potentially lucrative market. After all, technology is rapidly developing, and consumers are shifting from one device to another. An advertiser's job is to speedily discover, adapt and find ways of keeping up to date with new trends while exploiting these opportunities to effectively connect the brand with the target audience.
What are your thoughts about wearable devices? Have you already considered putting your brand out in this new market? Let us know in the comments below!