We pioneered mobile internet advertising. Today, the majority of ad impressions and clicks come from mobile devices. The medium offers fantastic opportunities for brands to meaningfully engage customers, but it's fraught with challenges.
We can help you acquire new users – app installs or site visitors – through beautiful, highly targeted advertising. Our mobile advertising services ensure your brand is placed in front of potential customers whenever and wherever they are searching for your products and services.
Why we're first for mobile advertising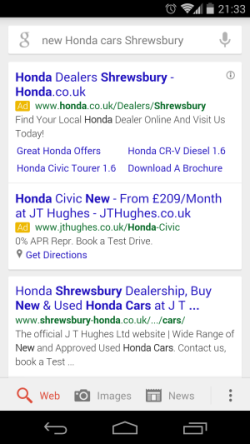 Experience – we recognised the potential of mobile search as soon as it was introduced, and we have pioneered its use for innovative and forward-thinking organisations.
Expertise – we know how to create effective ads that work on mobile devices and get your message across.
Innovative – we use the latest tools and thinking to ensure our clients achieve outstanding results.
Cost-control – we help you target your audience effectively and keep costs under control at all times.
Proven track record – one of the strengths of PPC is the ability to track result accurately – and we can demonstrate our ability with proven success stories backed by solid facts and figures.
Our Mobile Advertising services include
User Acquisition & Retention
Driving app installs isn't enough, just as merely driving traffic isn't a profitable endeavour. Retaining users and driving conversions on mobile are two of the biggest challenges facing mobile marketers today.
Our specialists work with your data and our in-house AI platform to optimise UA activities to deliver the highest potential return on investment.
Increasing app engagement and retention is just as important as driving app downloads. Here too, our expertise can help you improve the lifetime value of your customers.
Call us on 0800 019 6813 or email us
Find out more about how mobile advertising could work for your business.
We're all working in the results business and AccuraCast deliver results, and do so with value add.
Steve Dawson, Ratio
Get in touch
Want to find out how we could help you get more from your digital marketing campaigns?
Great! Let's talk. Start by telling us a bit about yourself…
Top Publications and Insights