Users of smartphones, mobile phones with Web browsers and tablets can view sponsored ads for your business when performing relevant searches. The system works much like pay-per-click on computers, but there are some important factors to take into account, and this is a specialist area calling for dedicated expertise.
We can help you get the best from this relatively new advertising medium, allowing you to reach out to an affluent, mobile and technologically savvy audience. Our mobile pay-per-click, pay-per-call and click-to-download advertising services ensure your ads are delivered to potential customers even when they are browsing the Internet away from their home or office.
Why we're first for mobile PPC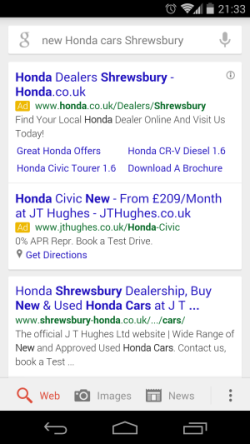 Experience – we recognised the potential of mobile search pay-per-click as soon as it was introduced, and we have pioneered its use for innovative and forward-thinking organisations.
Expertise – we know how to create effective ads that work on mobile devices and get your message across.
Innovative – we use the latest tools and thinking to ensure our clients achieve outstanding results.
Cost-control – we help you target your audience effectively and keep costs under control at all times.
Proven track record – one of the strengths of PPC is the ability to track result accurately – and we can demonstrate our ability with proven success stories backed by solid facts and figures.
Our Mobile Advertising services include
Mobile landing page design
Google Mobile
At present Google is the only major search engine with a comprehensive mobile advertising offering. Sponsored search results on Google Mobile work on a pay-per-click as well as a pay-per-call basis. Ads for mobile apps specifically also include a click-to-download option.
Every ad contains a headline, a short description and a link to the mobile site, to a telephone number or both. This means advertisers can choose to connect to customers through pay-per-click or pay-per-call, or serve both and give customers the choice.
Mobile ads have a limited amount of space, and call for specialist mobile keyword research, skilled copy writing and customised banner design. There is also very limited space on handheld device interfaces, making it critical to place the ad in the ideal location to be noticed and receive maximum coverage at the most efficient cost.
Call us on 0800 019 6813 or email us
Find out more about how mobile search advertising could work for your business.
We're all working in the results business and AccuraCast deliver results, and do so with value add.
Steve Dawson, Ratio
Get in touch
Want to find out how we could help you get more from your digital marketing campaigns?
Great! Let's talk. Start by telling us a bit about yourself…
Top Publications and Insights