As the popularity of influencer marketing grows, so does its notoriety. Brands like Unilever, YouTube, and Disney have publicly denounced influencer 'fraud' and severed ties with creators, such as Logan Paul. Unilever has declared they will not "work with people with inauthentic followings", which is just one of the many concerns brands face when working with influencers.
The negative trend doesn't seem to abate. More unfavourable information comes to light about the world of social media influencers each week, with the sector becoming notorious for its lack of transparency and credibility. Just last week DJ Khaled and Floyd Mayweather were sued for promoting a fraudulent bitcoin company.
Here are 5 issues causing controversy and how to ensure they don't happen to you:
Influencers behaving badly
How can brands predict the behavior of their influencer(s)? The truth is, they can't! No amount of screening can predict a bad decision that will be made in the future. When a brand works with an influencer, there is always a chance that things will go wrong.
Rather than picking the influencer with the most followers, brands need to spend time researching the influencers they work with. Most influencers share their values and characteristics when posting content online. This may range from a charity that they feel passionate about, to the way they carry themselves in videos. Brands should spend time following the journey of their influencer to see if they are going to be the right fit.
In addition to going through the influencer's channels, search for interviews they may have done, or articles written about them. See what other brands the influencer has worked with, to gauge both how reliable they will be, as well as if they'll be a good cultural fit.
Ultimately brands should treat picking an influencer like hiring a new employee. Ask yourself:
Would this influencer be a good cultural fit?
Do they hold similar morals and values as my brand?
Do they have the characteristics of someone I would associate my brand with?
Unauthentic endorsements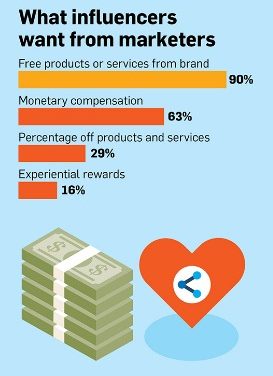 If an influencer were to post a negative review, the likelihood of the brand cutting them off would be high; Meaning no more free products or services, which research shows is the main motivator for influencers.
It is not in the influencer's best interest to give an honest review. However, customers are less likely to believe in the influence or the brand if they feel the review is unauthentic.
How do brand owners then encourage an influencer to share genuine reviews? Firstly, try to work with an influencer likely to have a genuine interest in your product or service. If you pick the right fit, the review will seem natural. You should also make sure to introduce the product thoroughly to the influencers before they go ahead with the review so that they understand exactly what the value is.
There is no way to guarantee a positive review, though, and if the review is negative then use it as an opportunity to improve the product or defend your decisions. Being vocal and responding to criticism demonstrates your passion for your brand and also boosts the credibility of the influencer. Be sure to lay out the fact that you are looking for a genuine review at the start so that the influencer feels they can be honest without breaking the relationship.
Not understanding their job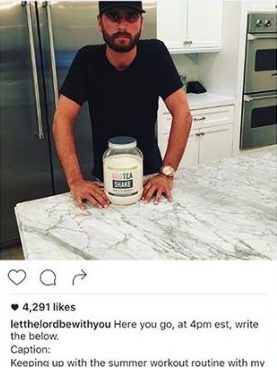 Not all content is good content. If influencers are given creative freedom to promote a brand's product or service how they see fit, this could end up hurting the brand's reputation significantly. There have been numerous cases of influencers doing more harm than good.
In the image on the right, influencer Scott Disick copied and pasted the entire PR email's instructions into his Instagram caption. Note to future companies looking to partner with "Lord" Disick – convey instructions over the phone!
Here's another example where we see why brands should pick their influencers carefully. Chriselle received severe backlash from her followers when she suddenly posted an off-topic, tag-heavy, obviously staged photograph with a Volvo in the midst of her feed, which typically featured more authentic photos of her travels, fashion, beauty trends, and her family. Awkward…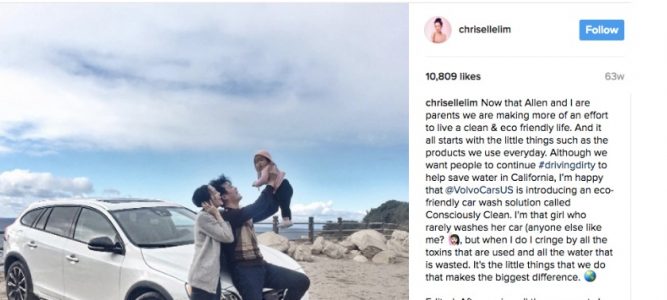 To ensure something like this doesn't happen to you, insist on reviewing social media posts before they are made live.
Lots of followers, low engagement
To avoid picking an influencer with fake followings, have a look at their social media page in more detail. Compare the number of followers to the amount of engagement on each post. If an influencer has 100,000 followers, yet only receives 10 comments and likes on their posts, chances are they have a fake following.
Use an Instagram Audit Tool and Twitter Audit tool to weed out the fakes.
Lack of transparency
There have been instances where influencers did not declare a sponsored promotion or partnership with a brand on social media, such as when The Amazing Phil YouTube channel filmed themselves doing the "Oreo Challenge" without declaring it was a paid advertisement. This mislead their followers into thinking the video was genuine, with no underlying agenda or fiscal motivation. Not only does this reflect badly on the influencer and the brand by association, but it is illegal.
A survey from Campaign found that "71 percent of people thought there were no rules around the use of influencers, despite being regulated by the Advertising Standards Authority (ASA)".
As brand marketers, it is all of our job to ensure that the influencers we work with disclose commercial partnerships. You should check the content your influencers post on behalf of your brand, and make sure it is ASA acceptable, otherwise the content maybe removed.
There's still hope
Despite the controversies and occasional awkwardness that go along with influencer marketing, there is hope for the industry yet – 92% of marketers who used influencer marketing in 2017 found it to be highly effective. But for brands to continue seeing value, better guidelines need to be put in place, ASA standards met, and relationships need to be handled better.
Brands need to put more time and effort into picking the right influencer for their campaigns, rather than the one with the most followers. Brand owners must work with influencers who can drive real awareness, influence purchase decisions, and whom they are happy to have represent them day in and day out. Does such a person exist for each brand? Or do we need to start looking closer to home?