How Facebook decides what content is to be published and what is to be banned has intrigued many users. Some light has now been shed on this issue.
A document in this regard has been leaked to Gawker by oDesk, a company to which some of this business is outsourced by Facebook. The document shows that there are fairly strict guidelines about what is permissible and what is not, although these guidelines can also be quite confusing.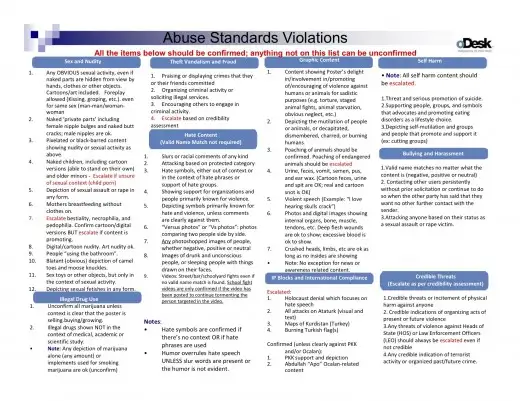 Facebook abuse standard violations document leaked to Gawker Media
It has been found that gory images such as those showing deep wounds or crushed limbs are allowed. Of course, these images of crushed limbs or such should not include a view of any internal organs. On the other hand, pictures showing nipples, including of breast feeding mothers are not allowed.
Any form of sexual activity is also banned even if the sexual parts are covered. In contrast, foreplay even between same sex individuals is allowed, though Facebook has historically displayed a degree of bias against gay and lesbian themed images.
There is some confusion with regards to material regarding drugs. It is alright to show a picture of a person using marijuana but it is not acceptable to show a drunk or unconscious person.
Guns are not mentioned in this document. While Facebook doesn't allow advertisers to promote firearms or weapons, neither the content policy document nor the Statement of Rights and Responsibilities provide any indication about whether Facebook condones or disallows promotion of guns and weapons organically by users.
While Facebook monitors some of the sensitive material itself, some of their content moderation work is outsourced. This is understandable, considering the amount of material that is uploaded on Facebook by their 840 million+ users.
On the other hand, how they maintain the privacy of their users when they outsource this material is debatable. Even though Facebook says that they do not part with user information, a disgruntled employee of the outsourcing company, Amine Derkaoui, says he was able to link content to users' identities.
This only means that users should be careful not to upload material that they would rather not have others see, even for private viewing.