Social media giant Facebook has launched a separate version of its network platform aimed at businesses, called Workplace. For years, Facebook has been synonymous with after-work teasing, friends' pictures and cute cat videos. Now that is about to change. Workplace offers the same look, feel, and features as the popular platform but aims to expand its services to the office.
Facebook introduced Workplace in a blogpost, which says: "At Facebook, we've had an internal version of our app to help run our company for many years. We've seen that just as Facebook keeps you connected to friends and family, it can do the same with co-workers. We started testing a version of Facebook for the workplace with a few other organisations over a year ago."
How it works
The idea is straightforward. Workplace is identical to how Facebook already works, except that you can only communicate with the people at your company. Workplace, previously called Facebook at Work, has a similar look and feel to the standard Facebook, including a news feed, group chats and an instant messaging for constant contact with co-workers. Workplace's background is grey, not blue, and users can access it without a Facebook account. The user experience is very similar to the personal account: users can add and share comments, photos and videos about their work and can engage in video calls with co-workers.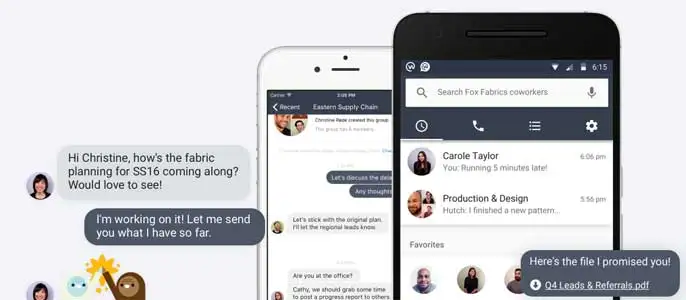 Employees can login separately from their personal Facebook account to see what's happening within their teams or across the entire organisation. They can poll their colleagues, comment, like posts, and message people directly. You don't "friend" people on Workplace, you can instead follow them to see what they post.
The platform comes with some very useful features. Workplace has a dashboard with analytics or "Multi-Company Groups" shared spaces, that allows employees from different organisations to work together, or extend collaboration beyond your company in a secure way. Facebook also announced the launch of the Partners Program, which includes companies like Deloitte and Microsoft that are committed to integrating their software and services to Workplace.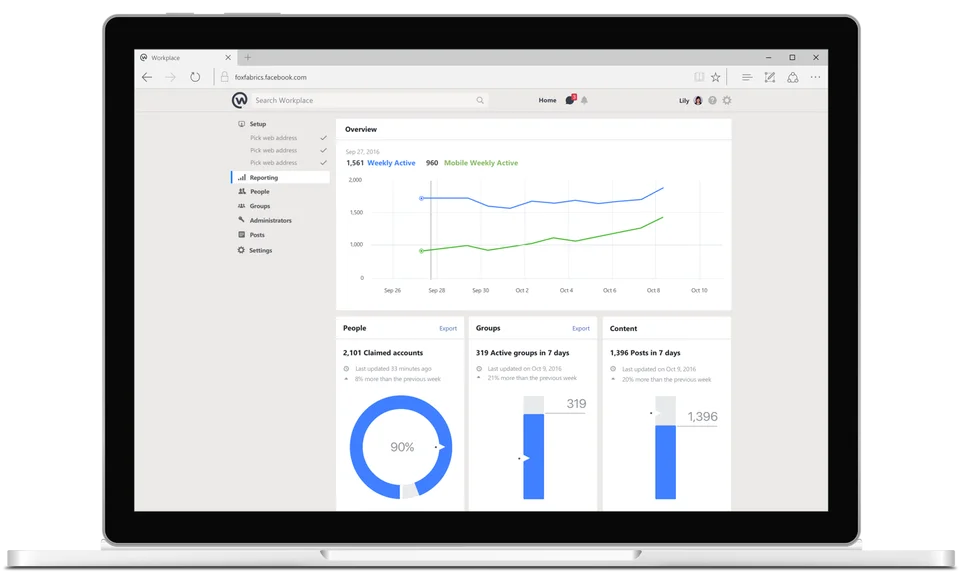 What are Facebook's goals?
Most of us no longer email friends as much as we communicate with them via social media apps. Facebook Messenger, WhatsApp, Instagram, and Snapchat are the most common. The social media giant now wants us to use Facebook not only before and after work but also at the office during working hours.  This means we can now chat with a colleague across the world in real time, host a virtual brainstorm in a Group, or follow along with our CEO's presentation on Facebook Live.
Facebook hopes the new product will replace businesses' previous internal communications tools, such as intranet and mailbox. It's competing with other products or services Slack and Yammer (which Microsoft acquired in 2012).  These companies are the early pioneers that adopted a social media approach for office environments. They both come with private chatrooms that mash up company email, instant messaging and corporate intranet data, capable of connecting to external systems such as Dropbox and Twitter.
The service is free for non-profits and educational institutions, but has a cost for businesses between $1-3 per month depending on active users and on the size of the business. Effectively, it will cost $3 per active user for the first 1,000 users, falling to $1 per active user if a company has more than 10,000 employees active on the platform.
Facebook is also keen to become the representative business social network in emerging markets, where its existing network is focused on expanding. During the past year trial period, more Indian companies adopted the platform than from any other country.