About a month ago, Facebook had announced that they would be launching their own app center. They have now actually launched the Facebook App Centre.
The store will allow users to access various apps including games, music and several other apps through which Facebook generates revenue.
For the first time Facebook will also offer the downloading of apps on iPhones and tablets. The store currently has over 600 apps including popular ones like Draw Something, Pinterest, and Nike+ GPS, Ubisoft Ghost Recon Commander and Stitcher Radio.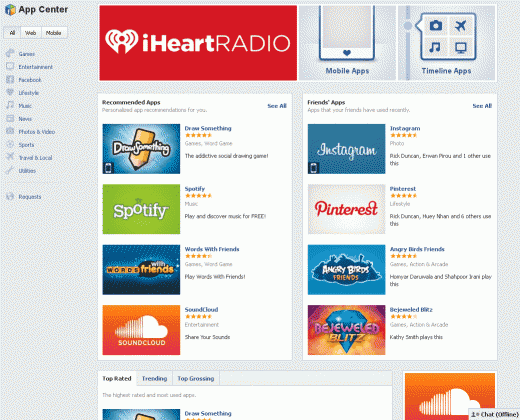 The Facebook App Center home page
Developers who create mobile apps will be able to charge users for the same. Mobile users will be able to download the apps through the Google Play store or iTunes page.
Apart from being accessible through Facebook.com the apps will also be available through the Facebook iOS and Android apps.
Users who wish to send apps on their desktop to their mobile will be able to do so by using the 'Send to Mobile' feature.
In order to make payments for the apps users will have to use Facebook Credits. Facebook will retain a 30% cut of the charges, the same as it does with in-app purchases,
At present, the app store will be available only in the U.S.A. It will be launched later in other regions.