Facebook has announced that they will soon launch a range of new services including a facility to allow advertisers to place ads on mobiles and in their main homepage news feed. This will be the first time that ads will be seen in the main content section of the popular social network or on their mobile service.
Facebook Premium
Experts had predicted this would happen when Facebook kick-started the process of filing their IPO. Mobile was identified as a point of risk and this new service is a step towards mitigating that risk and  generating as much revenue as possible.
The new service is called Premium.
Premium ads will be seen in the news feed of a user if for instance, a friend has 'Liked' the ad. In other words, only social ads in the form of sponsored stories will initially be placed in the main news feed.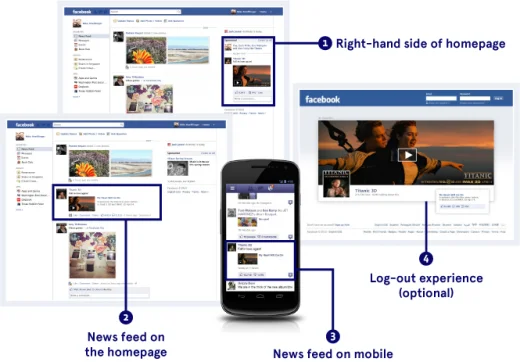 Facebook Premium illustration. Image courtesy of Facebook.
Advertisers will be able to start using Premium in April. The announcement was made during a marketing conference held in the auditorium of Manhattan's American Museum of Natural History on Wednesday.
This is the first time that the mobile version of Facebook and its apps will be used as a source for revenue generation. However, Facebook will have to be careful with the way in which they offer this service as they will have to safeguard the user's privacy while at the same time allowing advertisers to reach their target audience.
Reach Generator
Until now, marketers were allowed to use Facebook Pages as a free marketing tool. Premium ads will only appear in the news feed and the Facebook algorithm will determine whether or not an ad will appear in a particular user's news feed.
Reach Generator takes news feed ads a step further. The service allows advertisers to pay Facebook on an ongoing basis, as opposed to a CPC or CPM basis, to sponsor one page post every day, and guarantees a 75% reach of the page's fanbase over a month-long period.
The service is always on and advertisers don't need to do anything other than generate interesting content once a day within less than 90 characters for their fans. Facebook guarantees that brands will reach a large percentage of their audience and estimates that the volume of engagement with the brand will double.
Unlike Premium Facebook advertising, the Reach Generator service will only be available to a limited group of qualifying advertisers. At present, qualification requirements have not been released, but are likely to consider advertiser budget and fan volumes.
Pages with Timeline
All Facebook Pages will be moved to the Timeline format, just like personal profiles, by 30 March 2012. The new format will allow pages to show richer content, create a history for the brand and engage directly with Fans via Likes, comments, shares and now even via direct messages.
One of the biggest criticisms of the timeline format for brand pages, however, is that it eliminates custom landing pages for brands, which were a very commonly used tool by most marketers. From April, users will always be taken to the main Facebook Page Wall and page  owners will not have the option to redirect users to any other tab.
Moreover, the cover image on the new profiles is not allowed to call out user actions such as Liking the page nor include any sales or contact information.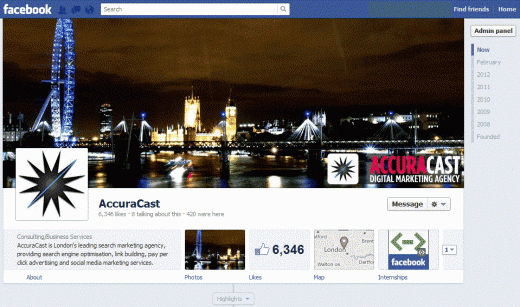 AccuraCast's Facebook Page updated to timeline format
Level Playing Field?
In some ways, the new changes level the playing field for all advertisers and page owners. Brands will no longer be able to create doorway pages pushing users to Like the page. However, brands with deeper pockets will be able to pay their way for higher engagement.
Sponsored stories and social ads have shown better results on Facebook since they were launched. Now, these ads will become the norm, making the user experience better. However, ads will now show up in the main news feed, which is Facebook's prime property. This alone is very likely to cause a severe backlash as users will most definitely protest the invasion of their personal feed by ads. Here too, brands with more resources will be able to post a lot more to the news feed and those who relied on the free promotion of news feed stories are likely to be quickly left out.