Facebook has launched it's much anticipated location-based netwrking service last week. The service, called Facebook Places, has been rolled out to users in the U.S.A. only for now. The service will be made available in other countries soon.
Users will now be able to send and receive information about their present whereabouts t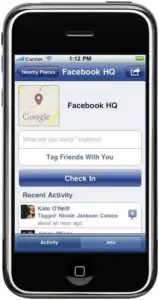 o and from their friends. The service is unashamedly similar to Foursquare.
When a user visits a particular location of interest, the "Check in" option can be used on the Facebook Places page via a mobile browser, just as one would on Foursquare. This way all the user's friends will get notified about the user's current whereabouts in real-time.
Easy Local Socialising
The ease of localised networking via Facebook will be much greater than that of Foursquare, simply due to Facebook's popularity. Users will also be able to see if any of their friends happen to be in the same location.
In order to use Facebook Places, users will have to first download the latest version of the Facebook app on iPhones or navigate to Places on touch.facebook.com on a mobile browser that supports HTML 5 and geolocation.
Clicking on the "Check in" button displays a list of the places of interest around a user's current location. The user can then select the appropriate one. If a particular location is not already available in the list, it can be searched for or just added to the list.
Once a user is checked in, all of the user's friends will be be notified about the location via the News Feed. It will also show up as part of 'Recent activity' on that page.
Apart from checking oneself in, a user can also tag the friends who happen to be present in that location. A section called "People here now" will also show other friends who are checked in there for a short period of time.
Privacy of Facebook Places
Users will have the option of whether or not to be included in that section. Users who do not want to be part of that list can be excluded by adjusting the appropriate privacy controls. Similarly, tagging a friend will also be possible only if the friend has allowed it.
The usual privacy settings will remain functional unless the user has sets the mode to "Everyone", in which case that user's whereabouts would become public knowledge.
A tagged status update will appear for users who don't want to be tagged. Users can remove themselves from Places after being checked in or tagged. They can also discontinue the ability for their friends to check them.
Information can also be shared with third-party applications, provided the application has received Facebook permissions to do so.