Google has confirmed the launch of the Nexus One mobile phone at a press event held at their Mountain View headquarters on 5 January 2010. The phone will be available to buy and use immediately, direct from their website.

Mobile search has grown 5-fold for Google in the past year. A slew of Android-based devices are hitting the market this year, and the Nexus One aims to be one of the best. Google's mobile phone's features include:
Nexus One phone hardware includes a 3.7-inch (diagonal) widescreen touchscreen interface with 800 x 480 pixel resolution, Wi-Fi, GSM EDGE, Bluetooth and a trackball
The phone will run on the Android 2.1 mobile platform
Basic features include a compass, gps, accelerometer, light sensor, proximity sensor
2 microphones on the Nexus One allow noise cancellation
The phone is 11.5mm thin and weighs just 130 grams (with battery)
5 megapixel cam + LED flash. 1-click upload to YouTube
5 home screen panels to add more widgets
Live wallpapers – including animation – will sit behind widgets on the home screen
Live wallpapers are interactive and react to touch!
3D framework introduced into the Android platform
Quick photo loading, 3D gallery and photo clustering
Google Earth for mobile due to be released soon
Voice activated searching and GPS-based search localisation
Voice enabled ALL text fields in the device, which means you can speak your emails, tweets, facebook updates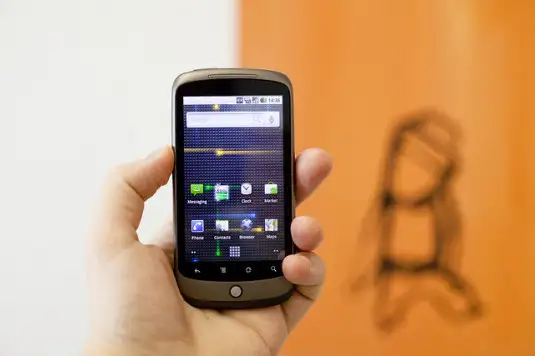 The Nexus One will be sold exclusively online via the Google website:
www.google.com/phone
Unlocked phones will be sold for $529. Alternatively, users can buy a subscription to T-Mobile and get the operator-subsidised phone available for $179.
Pricing of the Nexus One is disappointing, and this sentiment was reflected by some of the attendees at the press conference. Google CEO, Eric Schmidt, had in the past voiced hopes that we may one day see an ad-supported mobile phone. They seem now to be falling short of their own hopes.
Vodafone will be the first operator to sell the phone in the UK. Spring 2010 is the estimated time Google has given for the UK launch of their new mobile phone. Users on other networks can simply plug in the other netowrk operator's  SIM card.
At the Q & A session following the press conference, Google mentioned that the core revenues and income they aim to gain from the mobile phone business is not meant to be from sales of the hardware but from the usage of their mobile search service and the ensuing mobile advertising.