Google have unveiled a new beta product called "Visual Sitelinks" for mobile search ads. The new feature shows a series of swipeable images below search ads on mobile that link to deeper pages in the advertiser's site.
The feature is technically a comeback of sorts for Google – they tested something similar in 2013 with Image Extensions, which allowed advertisers to place their own relevant images on text ads on desktop. But this new feature is just for mobile – Google's now preferred channel – with images in a carousel format that allow users to swipe through before clicking. The format has been tested in the US for the last few months and has now just recently arrived in other English language regions.
The feature has been found to be most successful when promoting products in the travel, sports, and retail space. Alternative products have benefited most so far from visual sitelinks, according to Google's own internal findings. Finance clients, you can leave this one aside…
Google's rival, Bing, has actually been showing Image Extensions for the past year, whilst the 'carousel' is currently one of Facebook's most popular advertising formats. For once, it seems, Google are playing catch up! Still in the beta stage, the new product is being unveiled gradually, as Google monitors and updates the product as it gets used.
| | |
| --- | --- |
| | |
| (Facebook Carousel Ad) | (Bing Image Extensions) |
What do visual sitelinks look like?
Visual sitelinks replace the simple text based sitelinks, but only on mobile. They feature a carousel-like series of images (with a minimum of four images) and text that can be swiped and selected by the searcher. This is the second carousel rolled out by Google this month after last week's update to price extensions changed them from a list format to a swipeable carousel.
The question is – will these image carousels be more successful than simple plain text? Image ads stand out on a page filled with just text, and can easily attract user attention, so we'd expect click through rates to improve and perhaps CPCs to reduce as a result of the new format.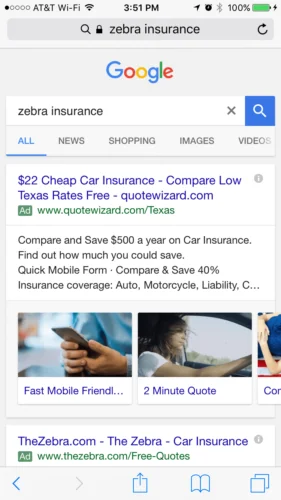 How to implement them?
Visual sitelinks are currently only available for certain Google Partners eligible for white listing. If you've been lucky enough to get early access, then go to the Labs tab on the AdWords interface to get setup. Creating an ad requires at least four images, plus text – an image title (25 character limit) and a description (50 characters). NB the description line is still being tested so may not appear every time visual sitelinks are shown.
Be sure to choose something catchy for your images (as well as something you have the rights to!). We tend to find that images containing people's faces and expressions generally appear to get more engagement than those without.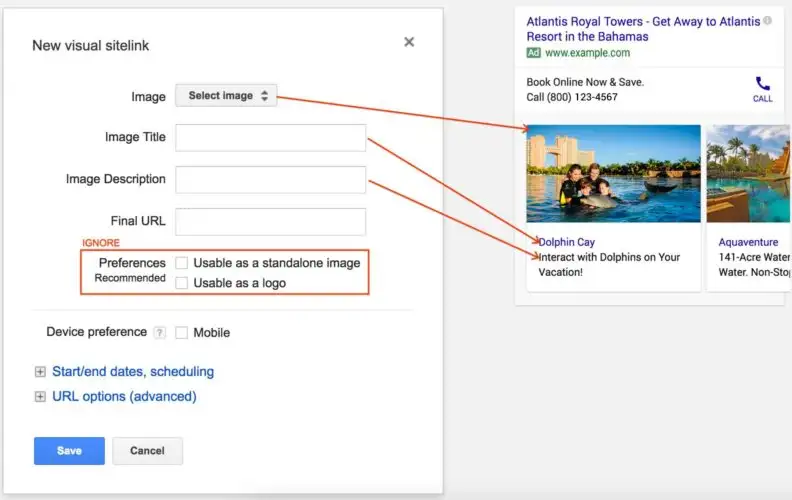 Google will also allow advertisers to track the performance of visual sitelinks with comprehensive analysis in AdWords, where you will be able to segment clicks at the campaign, ad group and ad levels.
Test cases show the feature has been positively received in the U.S. Beta users have already seen significant performance gains in CTR, but results won't be truly known until it gets released globally. For now, it is only in English language regions, so make sure you take advantage if you are advertising in the UK, US, Australia, etc. Google might not release it for a third time!