According to new research by L2, Instagram has overtaken Facebook in terms of brand posts, as companies continue to find Instagram to be a better medium to reach their desired audience organically. So, if you're mainly using Facebook to engage with your target audience, maybe it's time to consider adding Instagram to your Social Media strategy as well.
Even though Facebook might be the dominant Social Network when it comes to advertising and number of users, brands have found it difficult to reach their target audience without paid advertising. As a result, they shift towards other social platforms to post their content and reach their fans. Instagram has seen tremendous growth in brand posts, according to research by L2. This is likely due to the fact that it is free to use (with some advertising options), and it does not solely rely on algorithms to determine content delivery. Users are therefore exposed to every post a brand shares.
While Instagram has experienced a steady growth in the frequency of posts by brands, Facebook has simultaneously seen a consistent drop. As a result, in the 3rd quarter of 2014, Instagram surpassed Facebook in terms of brand post frequency. This can be seen on the following graph: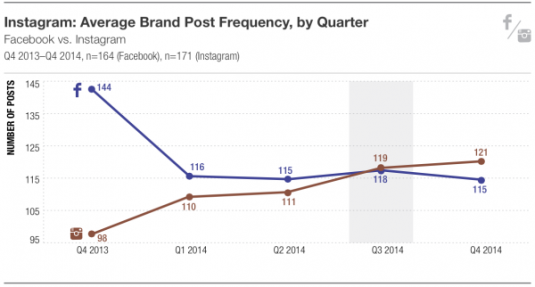 Opportunities for Brands
Instagram offers a very attractive opportunity for companies, and particularly for small businesses who might not have the budget to spend on advertising. However, even big global brands such as Nike and Starbucks consider Instagram their new best friend. Both brands have millions of followers on Instagram, and receive a lot of engagement on the content they share, proving that their posts reach a wide audience without spending any money on post promotion.
For instance, there are 13.1 million people following Nike's Instagram page, therefore, theoretically speaking, their content can reach each of those 13.1 million followers! On the other hand, the brand has 23 million likes on Facebook, a number which is almost double the number of their Instagram followers. However, without paid advertising they'd reach less than 2 million actual users based on the average Facebook reach of 2-8% that most brands see now, according to Business Insider.
While it is no surprise that brands are clearly choosing to follow the "Instagram path" when it comes to reaching out to their audience through organic visual content, this cannot be a viable long term strategy. Facebook owns Instagram, and it's only a matter of time before they start throttling brand organic reach to drive more ad spend.
The strategy Facebook used on their primary platform was to allow brands to build a huge following, get them to start thinking the network was an indispensable marketing channel and then start charging them to continue to reach that audience by taking their organic reach away. A look at Facebook's stock performance shows that this strategy has paid off, which means it's likely to be repeated with Instagram in the not too distant future.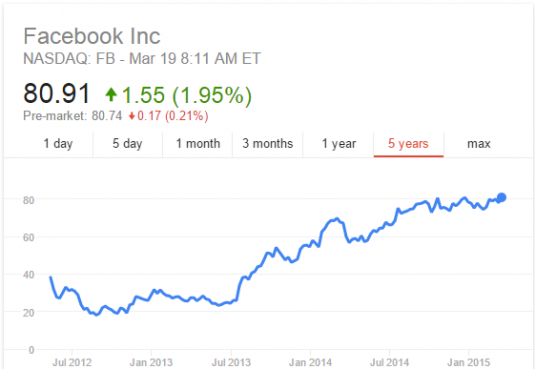 Do you use Instagram for your brand or business? Tell us in the comments below!