Google launched the 'Trusted Stores' programme about six months ago to help shoppers identify trusted online retailers. They are now testing this service as a means of indicating quality on search results by including the 'Trusted Stores' badge on paid search ads.
The Trusted Stores programme was introduced with the intention of giving users the confidence to spend money online.
When users buy a product from a 'Trusted Store' they can contact Google in case they have any problem with the product and the online store concerned does not attend to it satisfactorily.
Buyers from Trusted Stores are also offered the option of getting their money back, if they are not satisfied with the product or service rendered. This money-back guarantee comes in the form of a $1,000 'Consumer Protection' guarantee.
To qualify as a 'Trusted Store' the online retailer must have a good record for on-time shipping as well as reliable and timely customer service. A 'Trusted Store' badge will appear on the retailer's website and customers will be able to see the store's grades with regards to on-time shipping as well as customer service.
In order to avail of the free Purchase Protection service, the customer must opt in for the same. Having opted for the Purchase Protection the customer must first contact the store itself in case of any problem. If the problem is not solved satisfactorily, the customer can then contact Google, who will contact the store. If the problem is still not solved, the customer is eligible to get their money back.
Internet Retailer recently found the 'Trusted Stores' badge being tested on live search results to indicate the quality and reliability of the advertiser. It is initially being tested with about a dozen participants.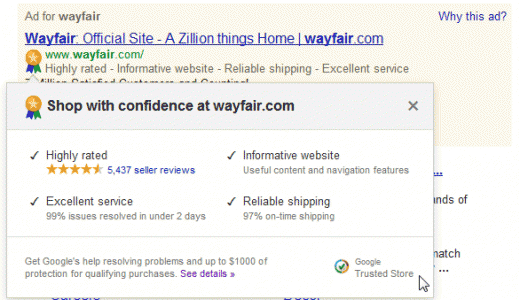 Trusted Store badge on AdWords ad
If this new embellishment to search ads is rolled out, it could serve as a great advantage to trusted well established online retailers with extensive customer service resources. However, smaller retailers and new online stores could find themselves severely disadvantaged by this new service as it could take them time to earn the badge.