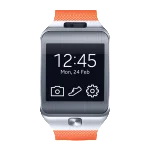 Juniper Research recently conducted a study in relation to the use of smartwatches. They've stated that by 2019, 100 million smartwatches will be in use worldwide. With the first few major players already producing and shipping the watches, Juniper predict a significant amount of opportunities to be created as a result of this new market.
With just over 1 million smartwatch shipments being carried out this year, the research company predict that by just 2018, the total number of shipments per annum will rise to a staggering 36 million. Over the next 12-18 months, an increasing number of brands are set to join the short list of current suppliers and propel this new and exciting market into mainstream consumer awareness.
So what exactly is a 'smartwatch'?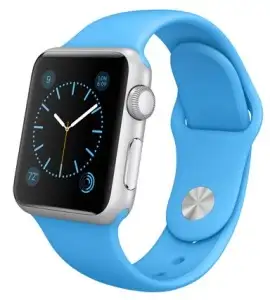 It's worn on the wrist and tells the time just like any other watch. However, a smartwatch offers users a range of different smart functionalities that can collaborate with other external devices such as tablets or smart phones. The range of smart functionalities varies from displaying call or text alerts, providing information about stocks or weather, to offering access to commerce and sports applications.
NFC (Near Field Communications) connectivity; wireless connectivity that allows short-range communications between electronic devices tends to be a popular feature on most smartwatches. NFC continues to increase in popularity worldwide for making wireless payments, so adding this to the list of capabilities could encourage even more sales.
Smartwatches can be categorised into two product groups:
Dashboard/Console smartwatches

Can be referred to as a 'dumb display' watch (working in conjunction with an external platform such as the smartphone
Connect to smartphones via an app to display call, text and email alerts
Allow users to listen to and respond to voice calls/emails

Multi-function smartwatches

Can be referred to as a device capable of doing a multitude of functionalities
Works individually or in conjunction with an external platform such as the smartphone
Functionalities integrated could range from payments & ticketing to sports & fitness
While both categories of smartwatches are capable of working in conjunction with an external platform, the multi-function segment is set to be driven into the limelight, with Apple and Samsung already unveiling their new smartwatches earlier this year.
Apple have announced that the Apple Watch will include both GPS and NFC capability, and Juniper's recent report argues that these, along with many other functionalities, will become a regular feature in similar products in the future.
Market Trends
Sony, COOKOO and Pebble, are among the short-list of companies who are currently carrying out shipments. However, it is understood that this number is set to increase dramatically within the next few years. A number of applications are currently available to download from Apple's popular App Store, and Sony claim over 1 million smart phone apps have already been downloaded for their smartwatch via Google Plus.
Smartwatch Forecast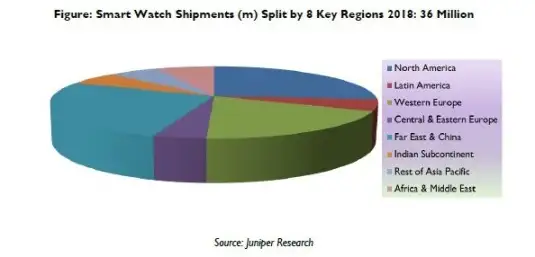 Juniper say the number of smartwatch shipments by 2018, split by 8 key regions. With Apple and Samsung already making inroads into the smartwatch niche, the report suggests that they will act as a catalyst, causing other competitors to follow suit.
Furthermore, the report goes on to argue that the increase of bigger vendors such as, Apple, Sony, and LG shipping smartwatches will result in smaller vendors having to respond to the increasing consumer expectations in the future.
As smartwatches become more and more popular, the analysts at Juniper Research predict prices will continue to rise until as late as 2020. The research company also expects that this new, popular market will have overtaken fitness wearables within the next three years.
Now that the phrase 'smart watch' no longer refers to a shiny Rolex, are hi-tech wearables going to be the new must-have accessory? Tell us what you think below.