25 Million UK consumers are estimated to own smartphone devices, accounting for 51% of the total mobile market and nearly 10 percent of all Internet traffic.
A new report by comScore provides details about the current trends in usage of mobile phones and other Internet-connected devices across the United States, France, Germany, Italy, Spain, United Kingdom, Japan, and Canada..
The report indicates that mobiles have done exceedingly well in 2011. Not only has the usage of smartphones increased substantially, but also tablet devices are becoming increasingly popular.
This trend is expected to continue through 2012, according to Mark Donovan, comScore Senior Vice President of Mobile. He says, "As mobile channels present a more personal, social, and ubiquitous experience to consumers, advertisers and publishers have an opportunity to better engage target audiences, given an understanding of how to connect and leverage the unique characteristics of these emerging platforms."
56.6% of UK users access the mobile Web. This is the highest in the West, but is far behind in comparison to Japan, where over 76% of mobile users access the Web. 42% of users in U.S.A. and 40-50% of users in the 4 main EU countries use smartphones to access the mobile Web.
Google's Android OS and Apple's iOS are the leaders in most markets, with Android leading with nearly 50% market share. However, Apple's iPhone is clearly the most popular single device across all markets.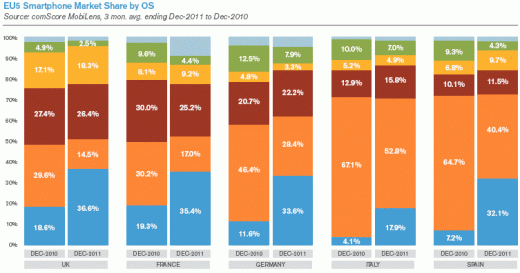 Mobile apps are being increasingly used to access information on subjects like health, retail, auctions and electronic payments. Shopping behaviour is also being affected as more shoppers use mobile devices to research a product, while they are actually in a store.
In Europe, 38.2 of the total mobile audience accessed mobile media via applications, up 10.1 percentage points, while 38.1 percent used their browser, up 9.2 points.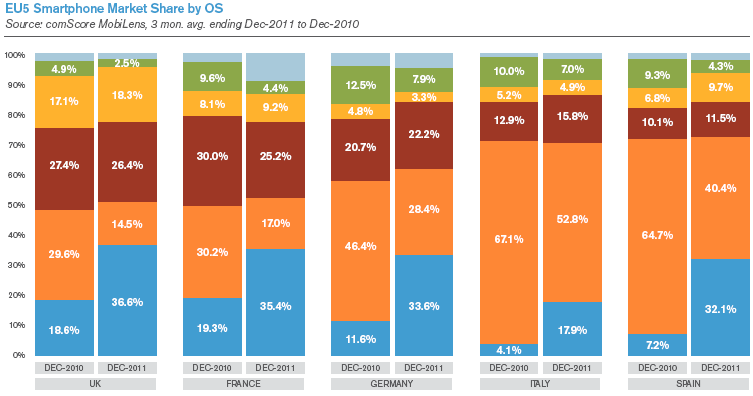 Smartphones continue to be increasingly used to access social networks. Almost half of the smartphone owners surveyed in the report use their mobile to access social networks everyday. About half of these users also read posts from brands, organisations, and events.
Tablets are rapidly gaining in importance. While mobile phones took about 7 years to reach the 40 million mark in the USA, tablets have reached the same level in less than 2 years. Nearly 15% of mobile users had tablets by the end of 2011. A lot of the recent growth in the market is fuelled by Android devices.
Rise of Tablets in the U.S.A. among unique mobile users in aged 13+
For marketers and brand owners, this means a further diversification of the media they need to target, but it also brings with it the possibility of richer, better advertising options, as we've already seen through Google's recent launch of tablet-specific ad formats.