Facebook Agency Day and Agency Expo were held in London last week. They were fantastic events (of course!) where Facebook executives shared insight and useful updates on new ad formats and content options marketers should expect in the coming year. Here are a few tips and interesting things to look out for.
New from Facebook
Starting off with the most exciting news, we learnt that Facebook is creating 2 new ad formats:
Instagram for direct response – allows brands to add a call-to-action (e.g. "buy now" or "download here") on their videos, whereas previously in-stream videos were non-actionable.
Dynamic ads for stories – (this one is especially exciting!) – enables creation of dynamic ads for Instagram/Facebook feeds. Advertisers will be able to add a number of creative variations and the platforms will automatically pick the best performing ones.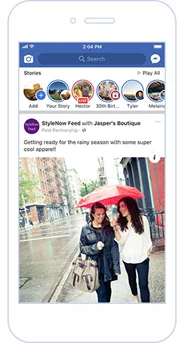 Facebook is also looking to release new branded content options for sponsorship/partnership. Currently, brands can only show partnership or sponsored posts with other brands, displayed as shown alongside:
The new branded content option will allow brands to show partnerships with Influencers. With the rise of influencer marketing, it's surprising that this hasn't happened sooner.
Tips from Facebook
Facebook research found that "the best advertisers create 11x more creative on Facebook than an advertiser with average results". The platform learns from creative variations over time and uses the best one to resonate with the brand's audience to gain a better outcome.
Tip: Use more creative and test, test, test!
When advertising on Facebook, the automatic placements feature determines which placement (Messenger, audience network, Facebook feed, Instagram Stories etc.) generates the most engagement and then allocates budgets accordingly. All you need to do is select the option at the Ad Set level.

Automated advanced matching makes remarketing more effective by increasing audience size by connecting conversions that happen on a brand's site to people on Facebook. This feature can be found in Pixel settings: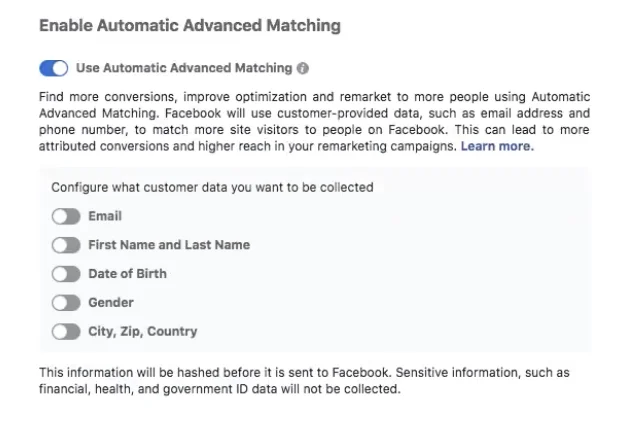 Tip: Always use automatic placements and automated advanced matching!
Finally, Facebook shared the concept of "Pitch, Play, Plunge" – the three states that individuals are in when using the social platforms. Each state needs specific content created for it:
Pitch – these users are on the go, they could be travelling or just passively scrolling. To attract their attention Facebook suggests short videos or immediate content. These ads should catch the user's attention quickly and get straight to the point before the user loses interest.
Play – these users have a bit more time to lean in. The content created for these users should be interactive to get them engaged and keep them intrigued.
Plunge – these users can lean back and spend more time with an advert. Longer content would suit these users better such as a live stream, or something similar, that is engaging but, at the same time, holds attention.
Tip: Differentiate your content based on whether your audiences are at the pitch, play, or plunge stage.