Following the announcement of their IPO, Facebook has been busy trying to monetise their website, in every way they can. They recently introduced ads within social games on the network and now they're making this facility widely available.
The ad service, called New Payer Promotions, was first launched in February to help developers generate revenue through the users who play their games.
Players making a first time purchase on Facebook with their credit card or PayPal account will be shown such an offer. The offers will be sponsored by Facebook. Early results indicate that about 20% of those who purchase such offers return for more within a month. That is a good sign, as it predicts that the feature is very likely to be popular among users.
Developers will now be able to place offers in their games by making use of a new unit called DealSpot. This unit will be seen only by those users who are eligible for it. In other words, only those who have never purchased such an offer before will see it. Those who have made such a purchase in the past will not be shown the offer again.
An eligible user will see an in-game icon that promotes the offer. When the customer clicks on the icon, the offer overlay is seen. By paying $1, the gamer will be offered Facebook credits worth $1 and an additional $4 worth of the developer's in-app currency.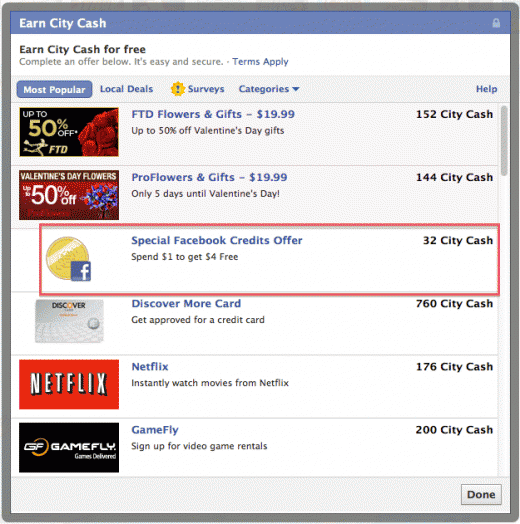 New payer promotion on Facebook
Developers who already have DealSpot running in their games can make use of the New Payer Promotion directly. Developers who do not already have DealSpot running should load it. Facebook recommends that developers offer in-app currency in order to make the most of this feature. If a developer does not have an in-app currency, the user will be able to redeem the $4 in Facebook Credits.