In the eternal quest to improve their offerings to both advertisers and users, Google are testing a new format for the ads that appear on Google Images search results. After a number of key improvements were made to the original format, it appears that the search engine are aiming to offer a sleeker and more aesthetically pleasing experience in Google Image Search.
The current system utilises a specific form of image search ad, which combines a thumbnail with text and largely resembles a pay per click advert, in appearance. However it would seem that Google are eager to ditch this bulky format, in a favour of a smaller design that looks less out of place among the search results.
The latest test format integrates the ad alongside the search results and therefore the thumbnail alone is seen, with the word ad and a link to the site layered onto the image. This format is certainly more aesthetically pleasing, however it is difficult to determine whether it not it would be successful and there is a serious risk that many users could bypass an ad, without even realising it's an ad.

The Evolution Of Google Image Search
When Google announced that they would be introducing ads to the Google Image Search, there was much speculation about how the company would implement these in their efforts to monetise the image search system. This took place in 2008 and in the 4 years that have passed since, the Google Image Search ads have undergone a number of changes.
The first incarnation of ads on Image Search were fairly simple and the minimal banners featured only text and a link. Although fairly unexciting, it was predicted that monetising Google Image Search would raise an additional $200 million for the search engine. Considering this it is easy to understand why Google were so eager to launch ads in image search results and this could explain the simplicity of the original version.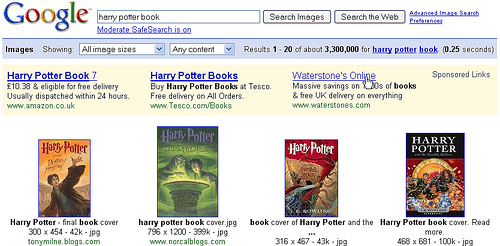 Two years after they introduced ads to Google Image Search, the search engine made the decision to affix display ads to an an unimpressive and alarmingly simple format. This vast improvement meant that a thumbnail appeared alongside the text and the majority of advertisers reported positive results from the revamped format.
Another improvement involved the relevancy of ads, as the previous system relied simply on text and not the images within the search results. This improved targeting was well received by both advertisers and consumers, who reported more relevant results from the more effective system. The format was then dramatically altered to the latest edition, discussed above, and it would appear that Google wish to make even greater strides in improving their offerings on Image Search.