Google's Shopper Marketing Council recently conducted extensive research into "how in-store shoppers are using their mobile devices", in order to discover how mobile's can be used to supplement the physical shopping experience.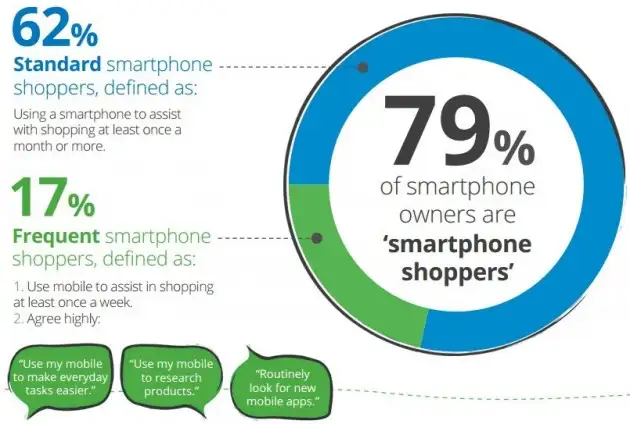 As the image above shows, 79% smartphone numbers would consider themselves to be a "smartphone shopper" and use their device to influence their in-store decisions with a degree of regularity. 8 out of 10 consumers use their device to aid their purchases, with 82% using mobile search as opposed to apps and mobile sites. This enables them to make more informed decisions, as they discover more detailed product information and rely on the reviews of fellow customers. This leads to frequent smartphone shoppers spending 25% more in-store, as there is less risk involved.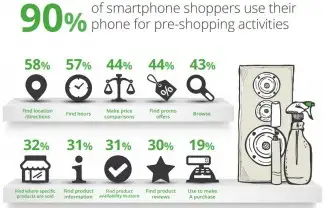 As you can see from the image above, users also rely on their smartphone in their pre-shopping trip research and this reiterates the importance of mobile advertising and optimisation. Although once they reach your store you have more time to impress, as consumers typically spend 15 minutes using their phone at this point.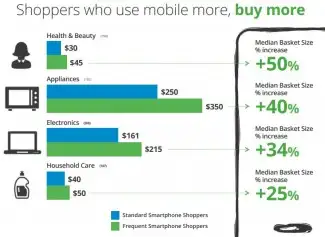 If you are competitive on price then mobile research will really work in your favour, as 53% of respondents revealed that they make price comparisons on their smartphone. This form of research is the most commonly carried out by smartphone shoppers, across all product categories.
As the image above shows, this can certainly lead to greater spend in-store and it is also important to remember that consumers will defect if the price difference is significant.
As mentioned previously, consumers rely on mobile search engines during their in-store research and it is therefore vital that mobile SEO and PPC are carried out. It is also vital that your businesses are listed accurately on services such as Google Maps, in order to improve the user/customer experience. Also ensure that contact details and opening hours are up-to-date.
Implications for businesses
This research highlights the need to ensure that a mobile campaign is a key part of your overall strategy, as it can help drive customers to your store, keep them there and cause them to spend greater sums on your products. Integrate mobile use to your in-store strategy and find a way to use it to your advantage, such as mobile in store guides, use of QR codes and mobile promotions. You could perhaps even offer free Wi-Fi to consumers in-store, facilitating the research that they are likely to conduct.
Smartphone shoppers behave differently, depending on the product category and this will influence your strategy. You can find this information in the full study, which can be found here.