New research shows us just how popular browsing on phones and other devices has become. Consumers are clicking much more on mobile devices as opposed to desktops and laptops. Impressions, spend and conversions have also risen significantly, however not all metrics are quite on par with desktop just yet.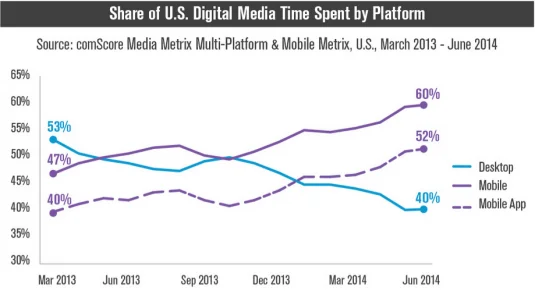 Source: comScore U.S. Mobile App Report
In the USA, comScore found that the amount of time spent on mobile and mobile apps had surpassed desktops in early 2014. Research from Marin Software reveals similarly unsurprising trends regarding mobile traffic in the UK: Mobile devices (including tablets) now account for 44.8% of ad impressions, 50% of clicks, and 43% of conversions in Britain.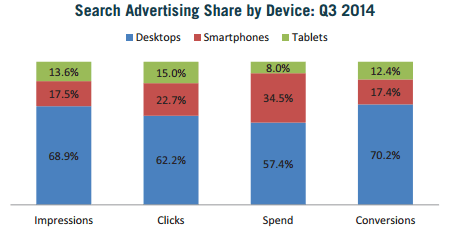 The graphs above and below show a comparison of click volume compared by device for search and display advertising. Smartphones contribute to a lot more clicks – disproportionately more than impressions – on smartphones. While the higher impression share on smartphones may be explained by the fact that consumption patterns are changing, that doesn't explain the much higher click volumes.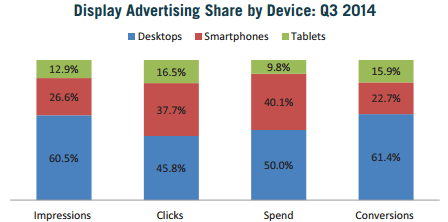 Consumers normally begin their research on a mobile device and then move over to desktop when they want to make a purchase. Search adverts on tablets gathered the highest click through rate in the final quarter of last year. Research from Kleiner Perkins Caufield  also uncovered interesting data regarding Internet trends that display a rise of clicks on mobile.
Numbers in the UK differ significantly when comparing mobile clicks to those from the US and rest of Europe. Mobile conversion figures are much higher in the USA and in Europe, which led Jon Myers, Managing Director of Marin, to suggest that marketers need to optimise their budget; "The smart choice for advertisers in 2015 will be to optimise their spend toward smartphone devices – the rate of clicks goes up significantly every quarter but the cost has remained low compared to both desktop and tablets"
Desktop still in the lead for conversions
In terms of conversions, desktop still remains on top. People still prefer to make their final purchase on a computer. The reports show that conversions coming from desktops are at a whopping 57%, while smartphones only contribute to 8.1%, and tablets drive 25%.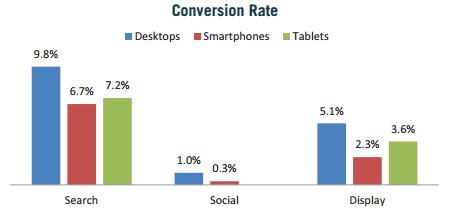 Do you think the conversion rate will rise on mobile in the future and might overtake desktop? Leave your comments and thoughts in the box below.